---
TOUR OF ANETO | HIGH MOUNTAIN ADVENTURE FOR LADIES
Last year we organised a 3 day mountain biking adventure with friends, riding around the highest mountain in the Pyrenees, Aneto. It was a tough but fantastic trip, riding in the high mountains, crossing between Spain, Catalunya and France over the high passes. This trip combines that adventure with a mixture of our Ultimate Pyrenees and High Pyrenees holidays, sleeping up high on the mountains with provisions brought in by a train of mules.
Sorry guys, this is a ladies only adventure. Maybe we will do one for the guys in the future!
---
"Just a perfect week riding bikes in technical trails, guided by guides knowing and loving what they do! Coming back for sure"

Monika (Switzerland) via Facebook reviews after her custom high Pyrenees trip with basqueMTB
---
Kellie Okonek from IronLady Adventures in Alaska will be guiding this week along with Doug and the aim is to offer a very small group of ladies a custom adventure in the Pyrenees. The trip is challenging, empowering and above all inclusive and we will build up to some big days on the bike and some technical trails. With a guide to rider ratio of 1:3 you can be sure that you are going to be looked after.
---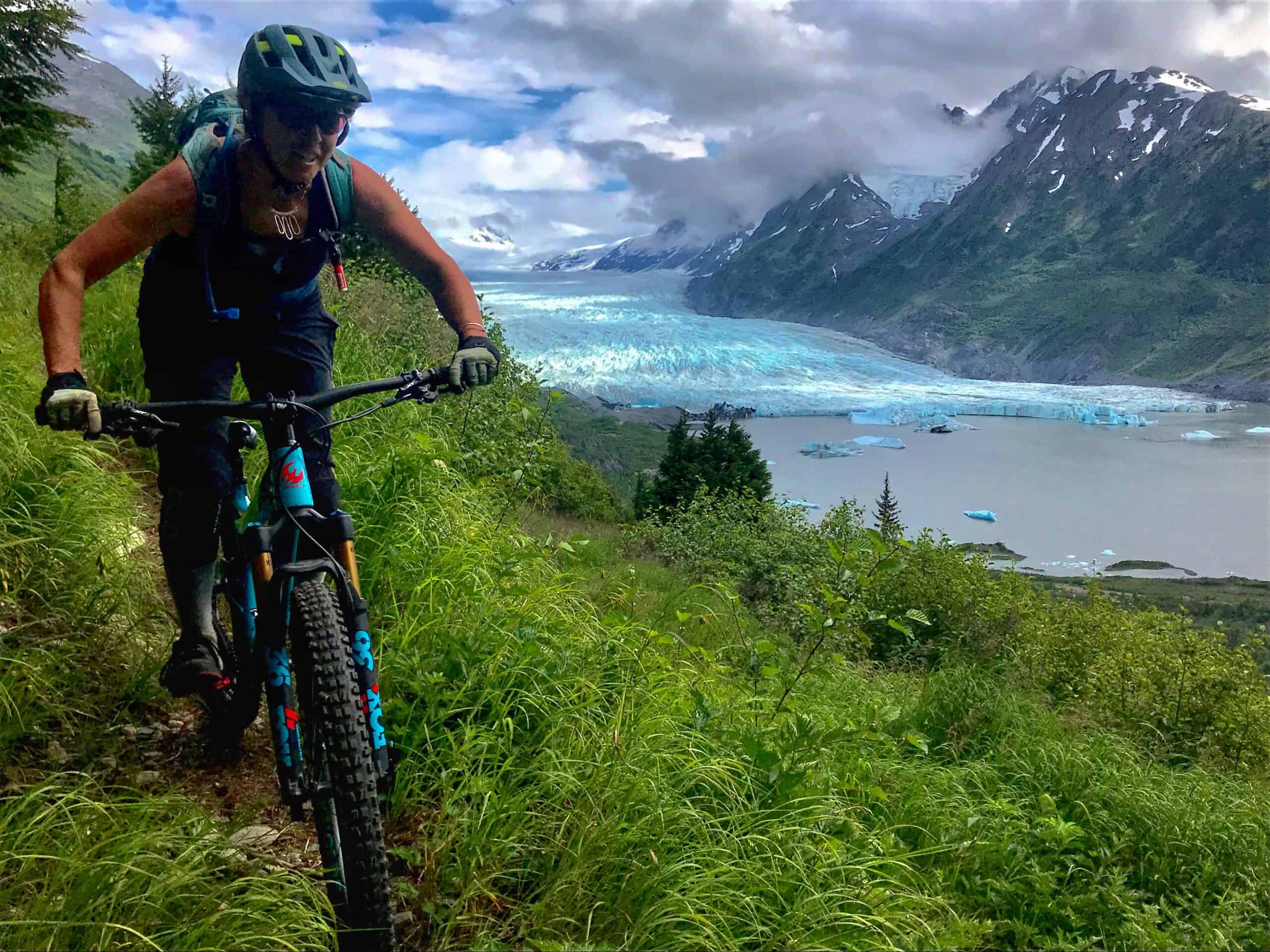 About Kellie
Kellie lives in Alaska and loves riding her mountain bike around the world! A women's empowerment coach, she believes strongly that finding our joy and power on the bike translates to life and is on a mission to help bring adventure mountain biking more into the mainstream for women! The journey is the reward and she loves mixing the novelty of riding in a new place with the community of like-minded women to make it more fun and less stressful!
---
TOUR OF ANETO | HIGH PYRENEES MOUNTAIN BIKING PHOTOS
(Click an image to see bigger photos)
---
TOUR OF ANETO
Ladies High Pyrenees Adventure
Tour of Aneto
7 nights
End of September
6 days guiding
18,000m descending, 6,000m climbing
Breakfast and Dinners included
---
---
TOUR OF ANETO | HIGH MOUNTAIN ADVENTURE FOR LADIES
Overview
Tour of Aneto Pyrenees Adventure: What's Included
7 Nights Accomodation
Breakfasts and Dinner Included
6 Days Guiding
Transfers from Barcelona
Group of 6 Riders with 2 Guides
Local, Experienced Guides
Full Van Support and Unlimited Shuttles
Up to 18,000m of descending
Around 6,000m of climbing
---
"One of the best experiences of my life"


Karl (UK)
Biking
Tour of Aneto Pyrenees Adventure: The Biking
We rate our holidays for fitness and skill levels and, to find out more about how we do this and an overview of the grades we use, check out our mountain bike holiday skills and fitness guide.
---
The terrain high in the Pyrenees is challenging and relentless. You should have good bike handling skills and be used to riding technical singletrack. Having said that, this is a trip for enjoying the scenery, these wild places and new friendships. We would recommend that you are high intermediate or above.
This trip has some hiking with your bike. The last day it is very challenging, although we have plenty of time to complete the route. You will need a good to excellent level of fitness. Realistically this can be achieved with a few months of training prior to your trip and we can help advise on that.
---
Logistics
Tour of Aneto Pyrenees Adventure Logistics
---
Arrival
People need to arrive to Barcelona Airport, before around 13:00 on the first Saturday. From there we will organise transfers.
---
Departure
Departure is from Barcelona Airport after around 13:00 on the final Saturday. Often people choose to spend a night or two in Barcelona after the trip and we can help organise that if you want.
Accommodation
This mountain bike tour has two types of accommodation. When we stay in towns we will stay in nice hotels so that we get time to recover and sleep in a proper bed! When we stay in the mountains we will be camping and these nights we will be supported by a train of mules so we have drinks and a proper meal plus our tents and sleeping stuff. You do not need to carry any equipment with you while we ride.
---
Calendar
This trip will be run from the 24th September until the 1st of October 2022.
Reviews
Have a read of some of our reviews!
basqueMTB
Average rating:
0 reviews
FAQs
Here are some of the questions we are regularly asked about our mountain bike holidays. If you have any questions we are delighted to answer them, just get in touch.

Do you have an itinerary for your Tour of Aneto mountain bike holiday?
I don't want to do a week's mountain bike holiday, can I do a shorter break?

Not on this trip I'm afraid, it is very much all or nothing.
What are the group sizes on a typical mountain bike holiday?

Typical holidays we run with 2 or 3 guides and a team of drivers with 12-14 people. This trip we will be running a very exclusive group of 6 riders with 2 guides plus a team of drivers.
How do you manage different technical levels on your mountain bike holidays?

On this trip we will expect some differences in technical levels and we will be moving as a group, with a guide out front and one at the back.
Why is it ladies only? Why no guys?

This is a great question! In the future we will offer trips like this for everyone but this trip came from a conversation with Kellie and Doug about adventurous cycling holidays and the barriers for women to come. At basqueMTB we monitor how many women we get on our trips and currently we are around 27%, which is great but lower than we would like. What is telling is that most of the women who come come with partners. We want to offer an adventurous mountain biking trip, with the support of Kellie, that women travelling by themselves feel safe to book. Part of the process of booking this holiday will be talking through any concerns people have prior to the trip.

Hopefully that explains why, hopefully it seems reasonable.
What is the weather like in that part of Spain?

During the days temperatures should be warm, although high on the mountains we need to be prepared for cold weather. In the evenings temperatures will drop and during the nights the temperatures can be low. We recommend a down jacket for the camps and a 3 season sleeping bag.
What bike / tyres / brake pads do you recommend for this part of Spain?
Can I hire a bike for this trip?
---
Our Tour of Aneto is a special trip. Our team is very experienced leading riders on these high mountain trails and organising the complicated logistics for the campsites. This is an intense trip, challenging and at times we will all reach our limit but with the help of the rest of the group we will all challenge our perception of what we can achieve. On the way we will ride some of the best trails in the Pyrenees and enjoy an amazing adventure.
Riding
Obviously for this trip the riding is off the scale. The advantage of the hikes and special uplifts is that we can get to ride the trails that way fewer bikers ever ride.
Nightlife
The nights spent in tents under the stars high up in the Pyrenees. These nights make this trip something special. It can be cold, uncomfortable but it is never anything other than spectacular.
Atmosphere
The supportive atmosphere, small group and the addition of Kellie to this trip makes this a perfect trip to push your limits and challenge what you thought was possible.
Adventure
This is a true point to point, working our way across the Pyrenees mountains. It makes a big adventure and adds a lot to this trip. It is the challenge that is the main reason to do this trip. If this doesn´t appeal then honestly do two of our other Pyrenees trips instead! These long mornings to reach high mountain passes form a massive part of the experience.
---
---
---
TOUR OF ANETO | RELATED PAGES
Before you book why not have a look at some of our stories about this trip?
Or Check Our Latest Stories