Choose Your Dream Mountain Bike Holiday
Here you have all our mountain bike holidays with a short description. You can use some of the unique qualities of each holiday to try and help you choose which might suit you. Of course we are always more than happy to talk you through the options and help you choose a mountain bike holiday which will suit you. The reality is that most people end up coming back again and again and trying more than one holiday.
To make things simple we have seperated our mountain bike holidays into four sections.
Pyrenees Mountain Bike Holidays
Electric Mountain Bike Holidays
Alternatively, if your dates are restricted, you might prefer to see our mountain bike holiday calendar and see what trip we are planning to run on any given week.
---
Single Center Mountain Bike Holidays
Our part of the Pyrenees mountains runs rom the mountainous, green Basque Coast with its maze of steep, technical enduro trails out across the Pyrenees to Ainsa, where you can find Zona Zero with endless rocky trails, the famous grey earth and beautiful historic towns.
A single center holiday offers more chance for relaxing in the evenings than a multi-centre trip where we ride from hotel to hotel.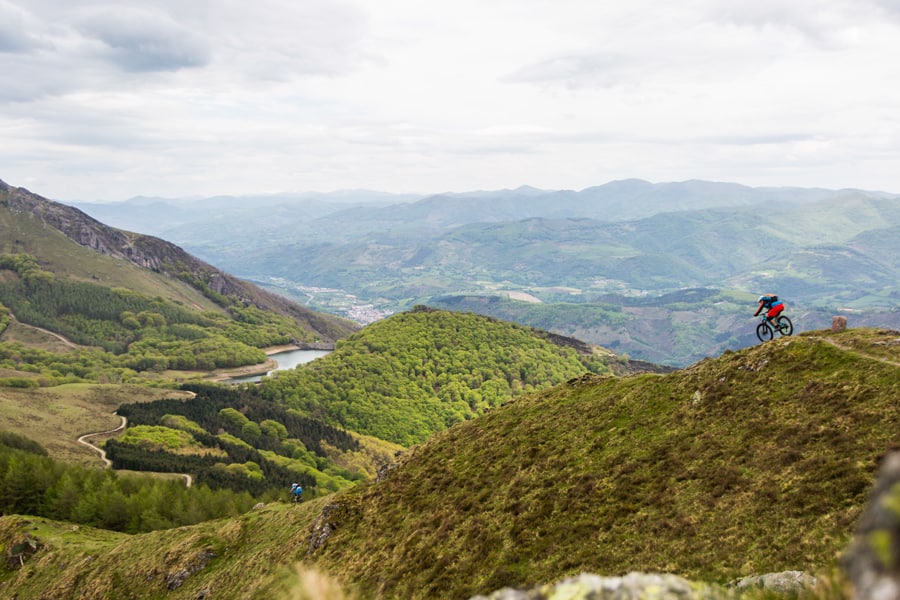 Hard Enduro Heaven
Based near San Sebastian on the northern coast of Spain. This MTB holiday offers incredible, uplifted mountain biking above perfect surf beaches.
This is where we ride in summer, when the days are warm and the water is warm. The trails here are a great mix of natural singletrack with lots of pretty spicy, hand-built, "enduro-style" tracks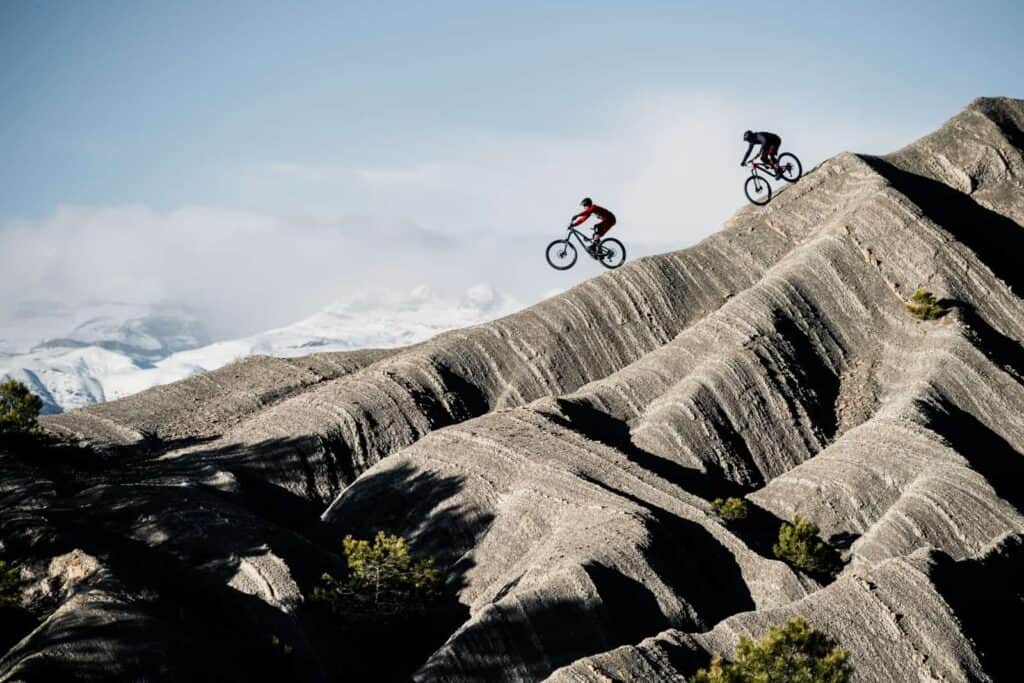 EWS Trails, Unlimited Uplift
The best Enduro trails in Ainsa (Zona Zero), a regular destination for the EWS. Using our unlimited van uplifts to unlock some of the best riding in the Pyrenees.
---
Pyrenees Mountain Bike Holidays
Although all of our holidays are really in the Pyrenees, here is where you will find our trips in the more central Pyrenees, where the highest mountains can be found. We offer three holidays in the Pyrenees to take advantage of the best trails in each season.
The Pyrenees have our longest descents. The riding is mainly natural and is firmly in the advanced to expert category.
The Wildest Pyrenees Trails
A gravity assisted mountain bike holiday in the Pyrenees. Five different locations and 15,000m of challenging descending on perfect, natural trails.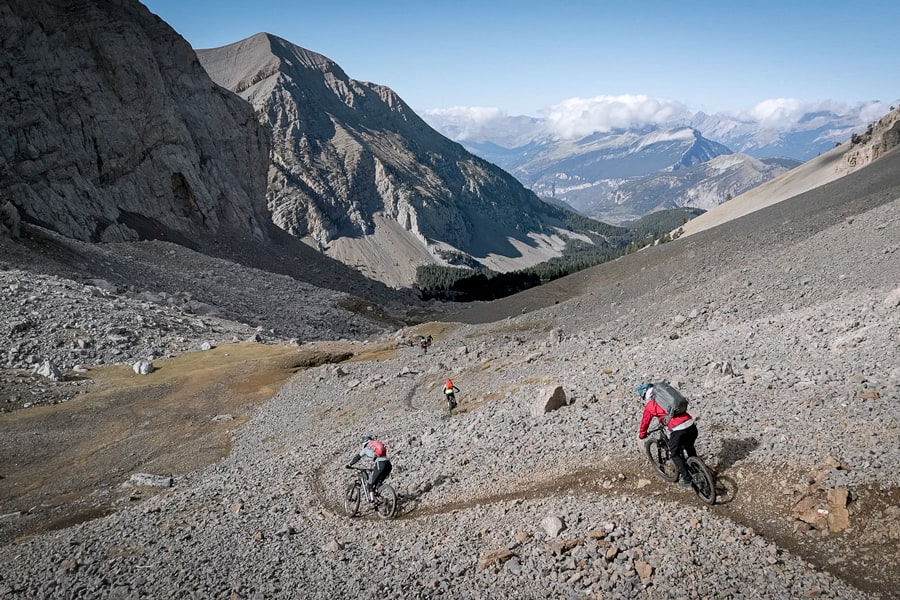 Big Mountain Enduro
Mountain biking high in the Pyrenees with around 80% uplift. Taking in the highest mountain bike trails with 17,000m of technical descending over 6 days.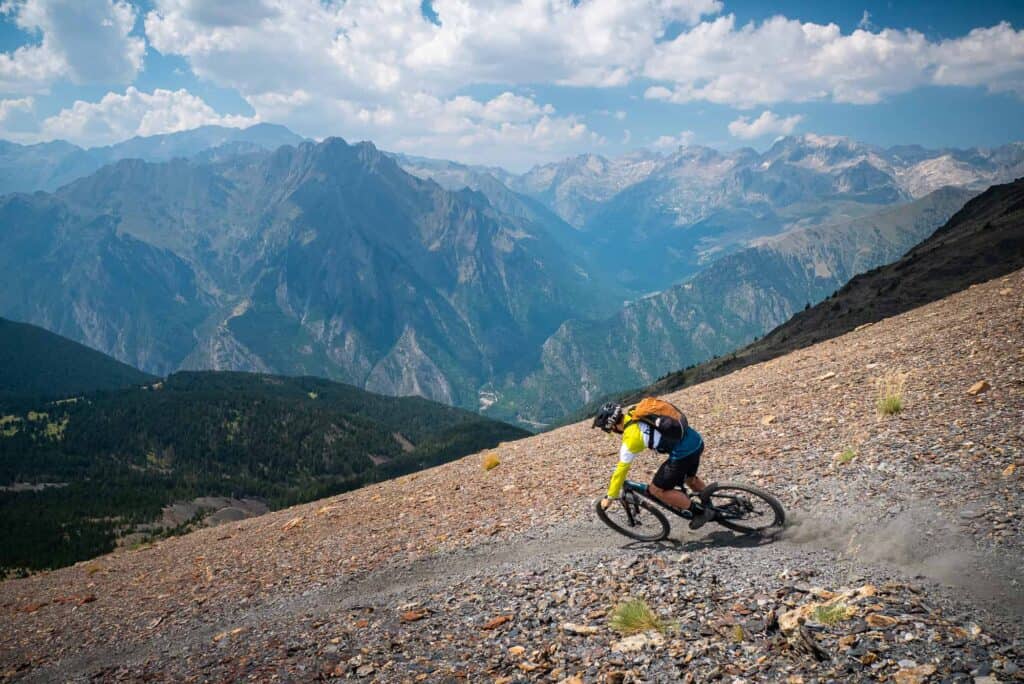 Higher, Deeper, Wilder
The Pyrenees Odyssey, mountain biking adventure on the highest trails in the Pyrenees. Mornings of high alpine riding followed by shuttle assisted afternoons. This is simply the best riding you can do anywhere.
---
ELECTRIC! eBike Holidays in the Pyrenees
Our concept of electric bike holidays is very much the same as all of our holidays. We use shuttles to save battery where possible so that we can enjoy more descents. The beauty of the eBikes is that we are able to access lots of trail systems where shuttling isn't possible.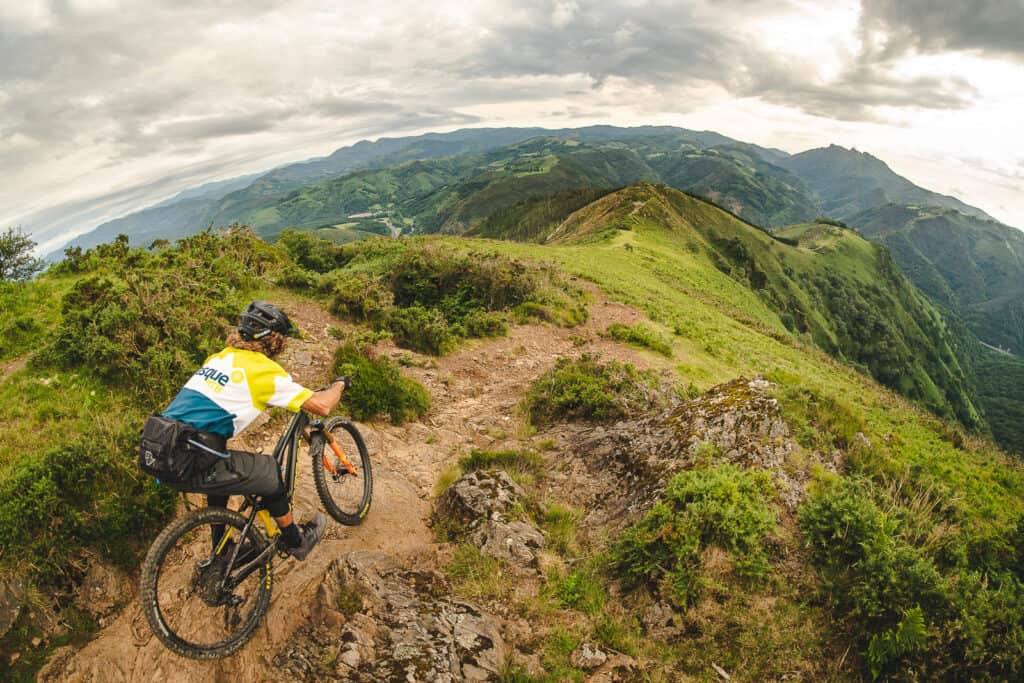 Basque Coast Enduro, But Deeper
The Basque Coast has lots of trails which have no shuttle access. Here our eBikes gives us fantastic access to ride more trails than ever before.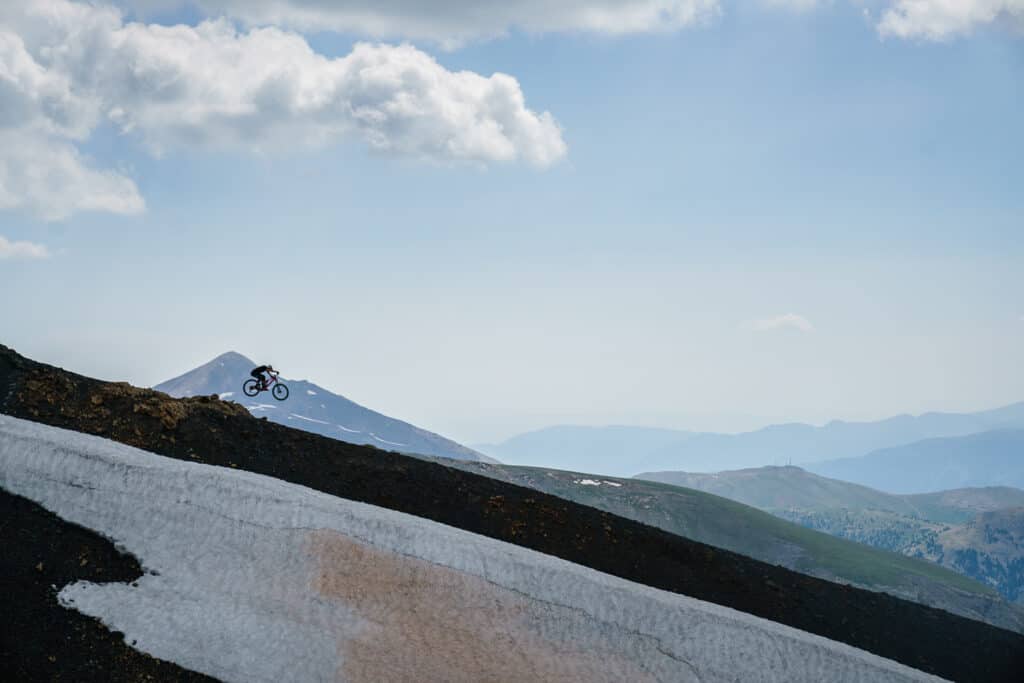 Electrified Pyrenees, Deeper and Longer
A gravity assisted mountain bike holiday in the Pyrenees. Lots of descending and some challenging climbs to reach a bunch of trails our other trails don't include.
---
Small Group Holidays
Some holidays only work with smaller groups. On these trips we add in elements of sleeping up high on the mountains, with fully supplied camps which are set up by a team of mules. These holidays are more expensive but offer an experience which you won't find elsewhere.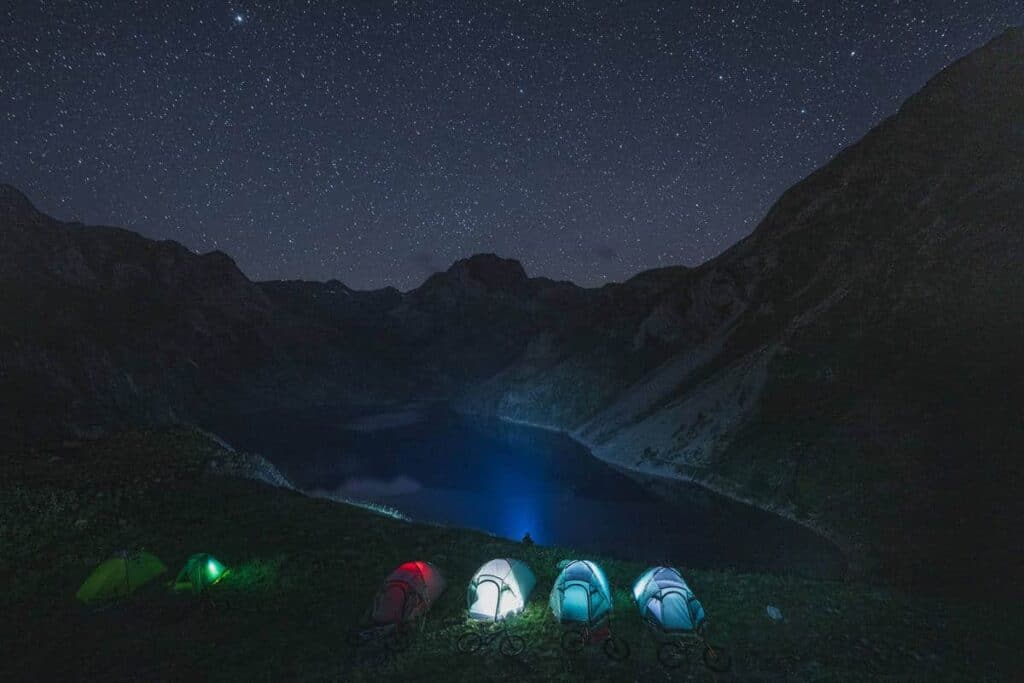 Ultimate Pyrenees Adventure. With Mules.
Possibly the ultimate Pyrenees mountain bike adventure. Riding over and around the highest mountains, including a trip around Aneto with high mountain camps supplied by a team of mules.
---
Get in touch if you are keen to book one of these trips.
---
Don't Take Our Word For It
At basqueMTB we judge ourselves by what our customers tell us. It is critical for us and over the years it has shaped our mountain bike holidays. Trips have changed, or been dropped altogether and over the years we have evolved our holidays. Have a look at what our mountain biking guests tell us.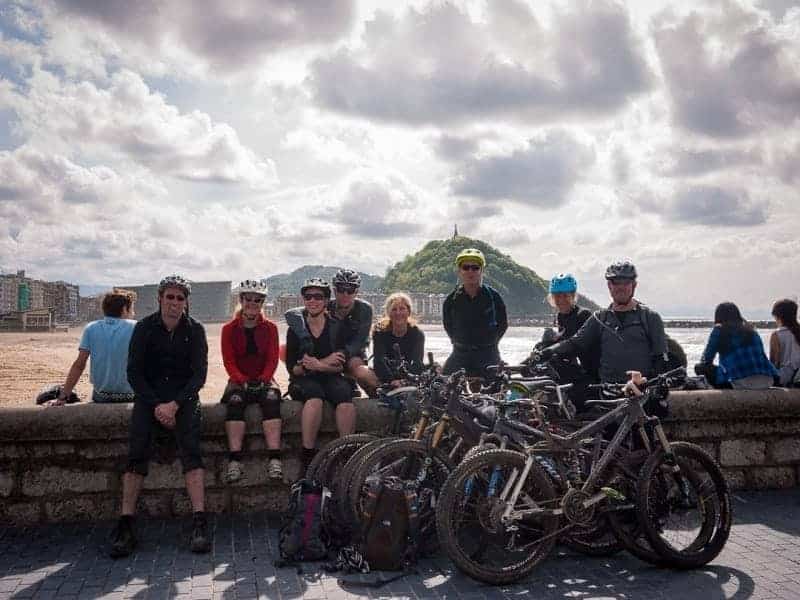 MTB
Experiences
Previous guests on our holidays share their experiences.
Feedback From Guests
We judge ourselves on what our guests tell us. You probably should too!
Jul 27, 2020
High Hopes
We had high hopes for our trip and it was even better than expected. The town, the house, the guides, the trails were all awesome. It was great getting to know the other riders and going out for dinner with them in Hondarribia each night. The riding was perfect for our level - challenging but doable. It was fun to ride trails that were quite different to what we ride here in NZ. We rented bikes and were very happy with them. We will return, and recommend Basque MTB to all our friends!
Jun 27, 2020
Good Challenge
I was afraid the rides would be too easy - they were actually a good challenge. This, paired with 5 full days of riding really increased my skills/ability a big notch. I'm a better rider as I could go over some blockages I had. Really nice!
Nov 27, 2019
Great Week
Just a great week. We had bad luck with the weather, but everything else was so good that it didn't matter - had six fantastic days on the bike, all different and all memorable, through snow, rain and sunshine. Roll on next year.
Nov 27, 2019
Epic
Epic. I know thats not useful for the site but thats all I have right now.
Oct 27, 2019
Awesome Week
I did the High Pyrenees trip. Had an awesome week with Doug, Antonio, Igor, Carlos and Borha. Good accommodation, well skilled guides, good uplifts. Everything is very well organized. The trails are insane! Rocky, fast, steep, switchbacks, enormous descents and some climbing. It's just pure enduro heaven. Take care that as a rider you must be fit and experienced to take part in a trip like this. It's intense (as well as the amounts of delicious dinners). I will definitely be back next season.