---
HIGH PYRENEES MOUNTAIN BIKE HOLIDAYS
5 Locations, 17,000m of Descending and Perfect Pyrenees Trails
Our High Pyrenees mountain bike holiday takes you on the best mountain bike trails, high in the Pyrenees mountains. During this amazing mountain bike holiday we search out the best mountain biking from the north to the south of the Spanish Pyrenees. We ride in five different locations and descend around 17,000m on perfect, natural, high mountain trails. If you like your mountain biking high, physical and technical then this is the mountain bike holiday for you.
---
---
4×4 Shuttles, Mountain Biking High in the Pyrenees
We will ride high in the Pyrenees mountains, often using special 4×4 uplifts to access the very best trails and link up this amazing mountain bike adventure. The biking is tough and this is definitely a trip for fit and skilled riders who are looking for a challenge. This is a multi center holiday, using five locations, designed to ride the best, and most diverse, trails high up in the Spanish Pyrenees.
"An absolutely awesome trip! Exceptional trails, great accomodation and meals and superb guides. I can't speak highly enough of the week and would return in a heartbeat!"

Garth (NZ)
---
PHOTOS |
HIGH PYRENEES MOUNTAIN BIKE HOLIDAY
(Click image to see bigger photos)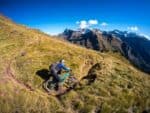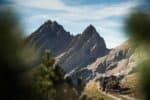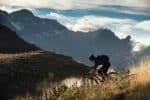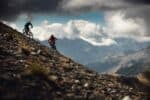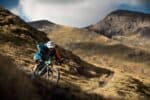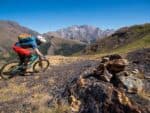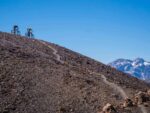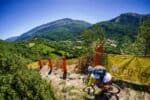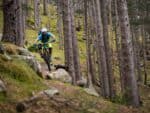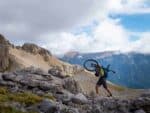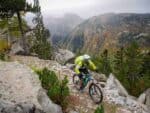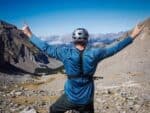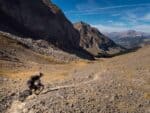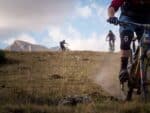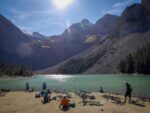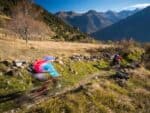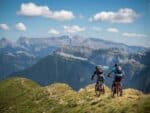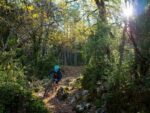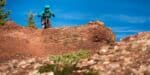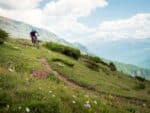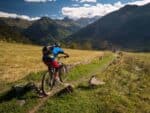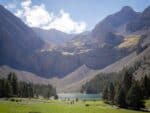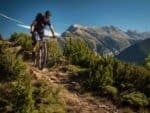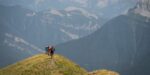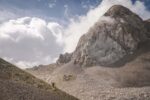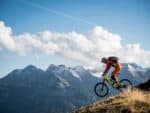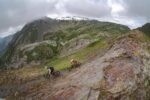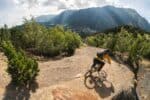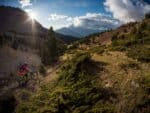 ---
High Pyrenees
Mountain Bike Holiday
High Pyrenees
7 nights / 6 days riding
17,000m descending, 3000m climbing
3 Guides
September, October & November
Transfers from San Sebastian
All breakfasts + 5 evening meals with wine
Local product and wine tasting
---
---
DETAILS |
HIGH PYRENEES MOUNTAIN BIKE HOLIDAY
Overview
What's Included?
7 Nights High Quality Accommodation
6 Days Guiding With Unlimited Shuttles
3 Local, Experienced Guides

Full Van Support and Unlimited Shuttles
Around 17,000m of descending
Around 3,000m of climbing

Breakfasts and 5 Dinners
Local produce and wine tasting
Transfers from Bilbao, San Sebastian or Biarritz Airport
Guaranteed single room €300
---
 "Probably the best mountain bike holiday in the world"


Rod (UK)
Biking
The Best Guiding In The Business
---
Having groups with similar levels is key to our mountain bike holidays and something we spend a lot of time sorting before you arrive. This is key to our holidays, we work hard with each booking to have homogeneous groups each week
The next step is our guide ratios. On these trips, where the mountains are big and the descents endless, we use 3 guides. That means we have have smaller groups of 4-5 people per guide, and we can use the guides to help everyone enjoy long descents without stopping.
We rate our holidays for fitness and skill levels and, to find out more about how we do this and an overview of the grades we use, check out our mountain bike holiday skills and fitness guide.
---
Skill Level
The terrain on our High Pyrenees mountain bike holiday is really only suited for advanced to expert. You can expect unrelenting technical singletrack, rocky switchbacks and some exposure.
---
Fitness
A moderate to good level of fitness is required. This trip has one day where we have a two hour hike-a-bike. What is most tiring though are the descents, some of which are very long, with up to 20km of singletrack.
---
Who Is It For
Adventurous riders looking to explore this big mountain paradise. You should be comfortable on technical trails, and have a decent level of fitness for the long descents. Maybe you have already have tried the Basque Coast mountain bike holiday.
---
Schedule
What Does A High Pyrenees Mountain Bike Holiday Look Like?
---
High Pyrenees Day 1 – Arrive to Bilbao and Transfer to Val d´Aran
Travel is really easy. Drive, take the ferry or train or fly to Bilbao, San Sebastian or Biarritz and we will pick everyone up and transfer them to our base.
Drinks and snacks are provided while everyone is working on the bikes. After this we have a 3 hour transfer to the Val d´Aran where we have an amazing dinner with huge views out over the highest mountains in the Pyrenees.
---
High Pyrenees Day 2 – Ride in Val d´Aran and Sleep in Benasque
Val d´Aran is loam paradise! Steep trails packed with features and all covered in the best dirt in the Pyrenees. Fast, flowing and fun, we will pack in all the best trails in the valley today.
We will be shuttled by Marc and David, the local trail builders, making sure that we help support the local trails system. At the end of today you can say thanks for what is sure to be one of the best days of mountain biking you have ever had! After a beer, while the guides prepare the vans, we transfer to Benasque.
---
High Pyrenees Day 3 – Ride in Benasque and Sleep in Benasque
Today we will be riding the big trails in the Benasque valley. We will be using local uplifts again, supporting the community, and donating some money to the trails with every uplift we do. We can easily rack up 4000m+ of descending on the big trails here, with an amazing mix of rocky features and flow.
You will be exhausted by the end of the day and many people will choose to head to the hotel for an early drink. For those who want to we often ride until well after 6pm.
At the end of the day we will invite you to a tasting of local produce, including meats, cheese and wine. For those who want dinner afterwards there are lots of options in this stunning, mountain village.
---
High Pyrenees Day 4 – The Big Day – Ride from Benasque to Bielsa
Today starts with a massive uplift. From there we need to climb up to a high mountain pass, which takes a couple of hours but is easily achievable. From there we descend almost 1500m to a village below where two local brothers will prepare us a very special lunch.
But don't relax because there are always more trails and we have another big uplift and another 1200m descent to the stunning hotel you will be staying in, owned by the local mayor.
Don't worry, all your bags will be unpacked and waiting for you at the hotel.
---
High Pyrenees Day 5 – Rest Day? No. Ride in Bielsa and Stay in Bielsa
We don't do rest days on our holidays. We are here to ride and share the amazing riding with you guys.If you want to rest we can offer you lots of alternatives, however we will always offer guiding for the group every day.
We have been guiding in this area for 10 years, however in the last 2 years the mayor, who owns our hotel, has been investing in more mountain bike trails. With a mixture of high alpine riding in the morning and then a series of shuttles in the afternoon to access the loamy, fast and fun lower trails, this will be a day to remember. Local picnics and freshly made coffee are all part of the service.
---
High Pyrenees Day 6 – Ride in France and Stay in Ainsa
Today we will venture over the border to see what our French friends have got in the the way of mountain biking trails. The answer is flow!
We hope you have saved some energy because today we usually end up riding a lot, racking up 1000´s of meters of pristine singletrack. We will ride in legendary places such as Fabian, Ens and Loudenvielle.
At the end of the day we transfer back to Ainsa where you can explore the beautiful old town and enjoy a meal in the old square.
---
High Pyrenees Day 7 – Ride in Ainsa, return to Basque Coast
We finish our trip with a few uplifts in Ainsa, enjoying the famous trails here. Late afternoon we will transfer back to the coast where you will be treated to a fantastic last meal with our friends Maribi and Jorge.
---
High Pyrenees Day 8 – Return To San Sebastian
The beauty of running our High Pyrenees mountain bike trips this way is that you finish in San Sebastian. If you want to return home straight way then you have a choice of airports or maybe you prefer to enjoy an afternoon on the beach and an evening sampling the pintxo bars.
Accommodation
Accommodation
The accommodation we use for our High Pyrenees mountain bike holiday will be high quality locally owned hotels, all chosen for their character and to keep us closest to the very best mountain bike trails.
All accomodation has secure bike storage. We will have WiFi every night and we will have access to clothes washing facilities on one night in the middle of the week.
We use locally owned hotels for two reasons. Firstly because of the personal service which knowing the owner brings, letting us offer you the best trip. Secondly because the money goes back into the areas we ride, helping to support the local trails and make sure that each year is better than the last. We don't use generic, chain owned, hotels.
Eating
We pride ourselves on the high quality of eating that you will experience on our mountain bike holidays! We love to eat and also enjoy trying the good wines and we relish the chance to share the great traditional Spanish places that we have found with our guests. We can't guarantee that you will lose weight on our trips!
We include five evening meals, on other days lunches will cost around €10-15 each day and dinners will cost from €10 to €25 each night.
Calendar
TRIP DATES |
HIGH PYRENEES MOUNTAIN BIKE HOLIDAY
This trip will run in September and October. For a detailed schedule please check out our calendar.
Reviews
BasqueMTB
Average rating:
11 reviews
Nov 27, 2019
Great Week
Just a great week. We had bad luck with the weather, but everything else was so good that it didn't matter - had six fantastic days on the bike, all different and all memorable, through snow, rain and sunshine. Roll on next year.
Nov 27, 2019
Epic
Epic. I know thats not useful for the site but thats all I have right now.
Oct 27, 2019
Awesome Week
I did the High Pyrenees trip. Had an awesome week with Doug, Antonio, Igor, Carlos and Borha. Good accommodation, well skilled guides, good uplifts. Everything is very well organized. The trails are insane! Rocky, fast, steep, switchbacks, enormous descents and some climbing. It's just pure enduro heaven. Take care that as a rider you must be fit and experienced to take part in a trip like this. It's intense (as well as the amounts of delicious dinners). I will definitely be back next season.
Oct 21, 2019
7th Trip
After coming on six Basquemtb trips thought we might try somewhere else this year for a change.... then we saw the photos of the high Pyrenees trip and signed up immediately. Amazing new trails and a few favourites from previous trips too. As always we got the usual high standard of Basquemtb service. Great riding, guiding, company, food and wine and well looked after for the week. And yep, as a result just booked on for next year too!
Oct 20, 2019
Best so Far!
This has been by far the best mountainbike holiday I've been on! For me, this trip belongs right up there with the big names such as Whistler and Rotorua!
FAQs
What is the difference between the High Pyrenees and the Backcountry Pyrenees?

The High Pyrenees (HP) is in Autumn when there is no snow up high // The Backcounty Pyrenees (BCPyr) is in Spring when it will still be snowy up high.
HP rides in the higher mountains. Descents can be longer. There is some hike-a-bike // BCPyr is lower, still long descents but no hike-a-bike.
HP has slightly less climbing // BCPyr goes into really wild areas.
HP – Long high alpine singletracks.
BCPyr – Wild riding, amazing natural flow, big rocky slabs and technical.
HP – Rides in Val d´Aran, Benaque, Bielsa, Ens and Loudenville.
BCPyr – Rides in Tremp, Benasque, Ainsa and Guara.

Both trips share a style. Big days, long rides, technical, mostly uplifted (shuttled) so mostly downhill, move between different areas to explore. Both trips have fantastic riding, the style is different but the quality is definitely not.
Do you have an itinerary for your High Pyrenees Mountain Bike Holidays?

We don't have set itineraries for any of our mountain bike holidays, we believe that the trails should be matched to the guests, however to give you a great idea of what our High Pyrenees mountain bike tour looks like you can see some video from each day here High Pyrenees Mountain Bike Tour Itinerary.
I don't want to do a week's mountain bike holiday, can I do a shorter break?

Unfortunately for our High Pyrenees holidays we can't offer shorter tours due to the fact that at times during the trip we will be a long way from the airport.
What are the group sizes on a typical mountain bike holiday?

Our High Pyrenees mountain bike holidays run with a minimum of 4 people and a maximum of 14. We run with 3 guides for this group size.
What is the weather like in that part of Spain?

The weather in the Spanish Pyrenees allows year round mountain biking. In winter the days are generally cold, however the skies are generally clear and this is a very dry part of Spain with around 330 days of sunshine a year. Temperatures are higher in autumn and spring, but you can expect general temperatures of around 10-20degC.
What bike / tyres / brake pads do you recommend for this part of Spain?

To get the most from this big mountain adventure you should have a full-suspension bike, with 140mm+ of travel. We recommend good tyres, with thicker sidewalls. Maxxis DD or DH tyres work brilliantly. Descent brakes are essential, and take some spare brake pads!
---
Our High Pyrenees mountain bike holiday is an intense trip. We move between 4 locations to allow us to access the best mountain biking in the Pyrenees. The weather in October allows us to go as high as we want and we will take advantage of that to ride high mountain singletrack. It is very comparable to the Backcountry Pyrenees. There is some challenging hike-a-bike but around 85% of the riding is downhill. If you like the idea of challenging yourself with high mountain trails then this could be the mountain bike trip for you!
---
Big Mountain Paradise
The riding in the Pyrenees is spectacular. With the High Pyrenees you get very long descents, taking you from high in the mountains all the way to the valley floors.
Unlimited Shuttles
On the High Pyrenees we have long standing deals with lots of uplift companies. Uplifts are epic and they aren´t limited. If you want another uplift then we will take you! We need to carefully manage energy levels though as it is a long, tough week!
High Pyrenees
For wide open, high mountain views you can´t beat the High Pyrenees. We ride around the highest mountains in the Pyrenees. The occasional tough climbs and endless descents. Nobody would say that the High Pyrenees was anything other than epic.
Food and Culture
Great local hotels, high mountain picnics, great food and local product tasting. It is important to keep fully fuelled up!
---
---
---
HIGH PYRENEES | RELATED PAGES
Before you book why not have a look at some of our High Pyrenees stories and related holidays?
Or Check Our Latest Stories