About basqueMTB
Who are the people behind basqueMTB? Why do we have so many repeat visitors? What is the thinking behind our holidays and why do we get so many great reviews (blush) all over the web? Hopefully this page will go some way towards answering. If it doesn't then please drop us a mail and ask!
We are rider owned and guided and we only offer trips in our local area. We all live, ride and built trails here. We aren't a supermarket bike company offering over priced trips so that someone in an office somewhere else can take a cut. That is reflected in the price, it is also reflected in the love you will see in all the details of what we do. It can mean that we take a couple of days to answer emails, but we always answer!
What?
basqueMTB offer quality, low volume mountain bike holidays. We only guide across Northern Spain, Basque Coast and the Pyrenees, this is our home and we don't believe anyone else can show you the biking here as well as we can.

Who?
We are a team of 5 mountain bike guides plus Amaia doing the legal and accounting stuff. We only employ local guides because we believe that connection to the areas we guide in is the only way to offer authentic experiences.

Why?
We do this because we love it. We all could be doing something else but we love using mountain bikes to offer unique experiences in the mountains we love. We love guiding the very best mountain bike holidays, the type we would like to do ourselves.

The Basque MTB Story
basqueMTB started offering mountain bike holidays in Spain and the Pyrenees back in 2008. It has been a long and interesting journey. You can read all about it on our "10 Years of Mountain Bike Holidays" post.
Each week we run two small groups, allowing us to offer different options each day. Additionally we carefully screen our guests to make sure that the levels each week are as close as possible. Despite really high demand we choose to limit the number of people we guide each week to allow us to provide better holidays. Unfortunately this means we are normally fully booked and turn away some people each week, so if that is you then sorry!
We use our dedicated vans and trailers to offer uplift. This generally means up to 80% of the climbing done in the vans but we also offer the option of less uplift or of using the vans to do big backcountry point to points. The fact that the vans are dedicated to our groups and that we run with smaller groups means that we can really tailor the riding to how our groups feel in the morning.
---
The BasqueMTB Team
At basqueMTB we do a few things differently. Our team of local guides work for us full time, these guys were riders, trail builders, bike testers and racers before they joined basqueMTB. Local guides can explain the culture, make sure that you get the best food and drinks and, very importantly for us, it means that basqueMTB is putting money directly into the local economy. Additionally we only use locally owned accommodation and local restaurants. All this makes for a better holiday for you, ensuring you see the real culture, and it also gives back to the local area.
---
Doug
Doug: "El Jefe"
Doug has been biking for as long as he can remember and has been helpless as the addiction has taken over his life. Doug met Amaia in a seedy club in Edinburgh and fell for her Basque charms and moved to the Basque Coast with her in 2008.
Doug is the founder of BasqueMTB and one of the main guides. He holds a SMBLA mountain bike leader guiding qualification and has been riding XC and DH around Scotland for years so will ensure that no matter what your level you are properly looked after and kept excited! He can also offer some coaching to help you get the most out of the challenging local terrain. Doug is also a keen photographer and snaps lots of photos during the trips ready to share with you.
When not biking he can often be found digging new trails in the hills behind his house.
Antonio
Antonio: "Silver Fox"
Antonio has been guiding for basqueMTB's for several years now and holds a local guiding qualification and first aid certificate. Born and bred in the Pyrenees he has been biking since before mountain biking was mountain biking and his knowledge of the wider Pyrenees area is breathtaking. He has forgotten more trails that most people will ever know, however that might be due to his affection for red wine!
Antonio's English is improving every day and he is always a fun and charismatic guide with a wealth of local knowledge.
When Antonio isn't guiding, and once everyone is safely home, Antonio can be found hanging around bars eating red meat, drinking red wine and being right about everything.
Jorge
Jorge
Jorge has been living, riding and guiding in Ainsa for years as well as working as a mechanic in the local bike shop. He brings a calmness to our team with his relaxed, helpful personality, as well as a wealth of knowledge.
Originally from central Spain, Jorge's passion for the mountains brought him to the Pyrenees many years ago.
When Jorge isn't guiding you can find him riding, either by himself or with his young family.
Eñaut
Eñaut
Eñaut hasn't got a nickname yet. He will get one! Eñaut came to work with us when he did the last stage of his Spanish guiding qualification with us back in 2018. He was absolutely fantastic and I spent the next two years offering him a job. Finally at the end of 2019 he accepted!
Eñaut, ("enyaut") is a very Basque name, so you wont be surprised to find out that he is from the Basque Highlands, near our base in Hondarribia. He has always been involved in some kind of sport, after many years playing rugby, he got into cycling due to an injury. Eñaut has been working for years in the Pyrenees as a white water guide and know the mountains really well. He has also been working on the TransNomad enduro race in the Pyrenees as bike patrol.
When Eñaut is not riding, he is either climbing or running in the mountains, but never with an empty stomach.
To Be Confirmed
We Need a Guide
If you are reading this, consider it advanced notice that we need one more guide for 2023. Do you think that you have what it takes. All our guides are: local, (or well aquatinted with the area), qualified, experienced, helpful, speak a couple of languages, love bikes, love sharing them with people, are able to ride to a high level but always leave their egos at home, can fix bikes and help maintain the hire fleet, can drive with a trailer in a very safe way, love local culture and sharing that with people, are happy to answer questions all day long even if they are the same questions about how much climbing there is and if it will rain!
Amaia
Amaia: "The Real Boss"
Amaia is a local Basque girl who grew up in San Sebastian. After studying business in San Sebastian she visited Scotland, planning to stay a few months to improve her English. She stayed for several years until she hooked a good Scottish boy and dragged him home! Amaia is our advisor for all things cultural, the more refined things about the Basque Country.
From 2020 Amaia has given up her proper job and has joined the basqueMTB team full time. As our business has grown and got more professional there is a lot more paperwork and we need to make sure we are doing things correctly. She will be doing our accounts, handling accommodation booking and trying to make sure that we do everything as properly as possible. This frees up Doug to ride his bike more with our guests.
Amaia doesn´t bike, so when not biking she loves visiting the local towns, cities and shops.
---
Between us we have almost a hundred years of experience riding in these mountains. We really care about your holiday and want to make it a special experience for each and every guest. You won't find our guides racing down the hill leaving all the guests behind, we will be looking after you and helping you get the most out of your holiday and, if you want, develop your riding. Our guides are fully trained, both in guiding and in first aid, and we have properly thought out procedures for any emergencies that should arise.
---
Read About Other People´s Experiences
We are the longest running mountain bike holiday company in the Pyrenees and Basque Country, running our award winning mountain bike holidays here since 2008. We have been working with the trail builders and businesses in all the areas we ride in, helping many of them get started and set up. This gives us a great relationship with the people we work with and adds a lot to the mountain bike holidays we offer.
We have been told repeatedly that we offer some of the best mountain bike holidays in the world. Don't take our word for it though, have a search on the web, ask people or read our testimonials page. The feedback from our guests is hugely important to us all and something everyone in our team takes great pride in. Over 60% of our guests are repeat visitors, something else that we are hugely proud of.
---
Magazine Visits


Pinkbike: "It felt like the best thing a trip like this could feel like – like a complete break from the world, and what more can you ask for from a holiday?" Read the full article.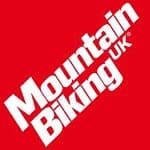 MBUK enjoy a trip through the Pyrenees and along the Basque Coast and call our trails: "One of Europe´s finest mountain bike playgrounds" Read the full article here.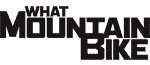 WhatMTB choose basqueMTB to run their 2015 "Trail Bike of the Year" foreign trip and come away very impressed with the trails. "Whether it´s the sublime, swooping singletrack of the Atlantic coast or the seemingly endless, epic, enduro riding and awesome eating of the Pyrenees and Ainsa area, these boys are the key to unlocking some of the best riding we have ever done anywhere".Read the full article.

We take International Mountain Bike Magazine to ride the notoriously difficult Technotrocity, pushing them well outside of their comfort zone, stating, "Nothing in the UK comes close to the severity, length and altitude loss". Read the full article.



MBR enjoy the riding on the Basque coast and state, "there´s something truly special about the sun, the dust, the Atlantic breeze and the Basque pace of life. Trust me and try it for yourself. Read the full review.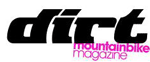 Dirt feature Doug as one of their Industry Insiders. Read the article.


Singletrack: "If Doug hadn't met Amaia in Glasgow years ago he would never have discovered this region… ergo, but for a drunken introduction in a Glasgow pub …precious few people would be aware of the amazingly technical and spectacular trails the Basque Pyrenees were currently showing us" "We felt like visitors out with local friends, rather than tourists with a bike tour company, such was the way Doug and Amaia treated us". Read the full article.


The Guardian newspaper visits basqueMTB and declares: "It's almost draining in its beauty." Read the full article here.



Bike magazine ponders on some of our trails on the Basque Coast saying, "Whistler? its a spanish common mistake to think that what is abroad is always better… Ecstasy." Read a translation of the article.

IMB Magazine enjoy a mixture of the Basque Coast and Backcountry Pyrenees: "I honestly can´t recommend the riding here enough, the trails are seeminly endless and the quality of the riding is on another level… home will never quite be the same again, knowing there is this magical place only a few hours flight away"Read the full article here.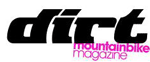 Dirt's James McKnight Visits Basque MTB: "I had been checking out some of the sublime and earthy surroundings that are on Doug's doorstep; the green, lush fields and crashing clean waves of the Atlantic that border the Basque. I had ridden some serious hills and some flow-tastic trails."Read James's column.


Singletrack´s Barney comes here during the launch of the 2015 Nukeproof bikes and declares: "The riding is unquestionably fantastic, and it carries on all day." and "One of the extraordinary things about riding in this region is how like the UK it feels; albeit a region of the UK where the trails go on for a long time, and where there are no access issues, and the food is much, much, much better." .Read the full article.
More Magazine Visits


Luxury Travel Magazine awards us a "Best Tour Company" award in 2016 and again in 2020.


Singletrack Magazine: "Sublime, dusty singletrack… atop another riverbed, rockier this time, with some fair exposure off to our right-hand side, this was one for the books… the smiles from Sam, Joe and Doug said it all.Read the full article.



Canadian Cycling: "it felt like having a buddy show you his local secret trails. This buddy just happened to ride like a pro, have a great shuttle van, a love for food and drink, and knowledge of the area that is impressive."Read the article.

"I uncharacteristically booked a trip with a MTB guide, and hoped for the best. On the first mile of the first day, while descending a narrow rocky chute, I smiled knowing already that I had made the right decision."
https://theradavist.com/2021/12/senderos-of-the-spanish-pyrenees-basque-country-singletrack/

We take the guys from Active Junky on a trip. They wrote three articles you can read here. Like them, "we won't forget the trails and ales we experienced along the way"
9 Reasons to ride with basqueMTB
Guest Comments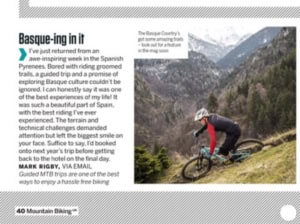 "I can honestly say it was one of the best experiences of my life… I¨d booked onto next year´s trip before getting back to the hotel on the final day!"
Mark via the MBUK Letters page.(Click the image to read the full article).
---
Jul 27, 2020
High Hopes
We had high hopes for our trip and it was even better than expected. The town, the house, the guides, the trails were all awesome. It was great getting to know the other riders and going out for dinner with them in Hondarribia each night. The riding was perfect for our level - challenging but doable. It was fun to ride trails that were quite different to what we ride here in NZ. We rented bikes and were very happy with them. We will return, and recommend Basque MTB to all our friends!
Jun 27, 2020
Good Challenge
I was afraid the rides would be too easy - they were actually a good challenge. This, paired with 5 full days of riding really increased my skills/ability a big notch. I'm a better rider as I could go over some blockages I had. Really nice!
Nov 27, 2019
Great Week
Just a great week. We had bad luck with the weather, but everything else was so good that it didn't matter - had six fantastic days on the bike, all different and all memorable, through snow, rain and sunshine. Roll on next year.
Nov 27, 2019
Epic
Epic. I know thats not useful for the site but thats all I have right now.
Oct 27, 2019
Awesome Week
I did the High Pyrenees trip. Had an awesome week with Doug, Antonio, Igor, Carlos and Borha. Good accommodation, well skilled guides, good uplifts. Everything is very well organized. The trails are insane! Rocky, fast, steep, switchbacks, enormous descents and some climbing. It's just pure enduro heaven. Take care that as a rider you must be fit and experienced to take part in a trip like this. It's intense (as well as the amounts of delicious dinners). I will definitely be back next season.
Facebook Reviews
Trip Advisor Reviews
Forums Etc

It is always worth checking the mountain bike forums for some reviews of companies before you book. Here are a few comments from the forums about basqueMTB, you can search for more too!
---
---
"Highly recommend it to anyone considering a biking holiday and fancies a change from the Alpsy stuff"

Danny T on Bike Radar
---
"Best holiday I've ever been on and I used to work for a company that ran alps holidays. His knowledge of the trails and how to maximise a day in terms or terrain, trails and weather is just beyond belief"

OnzaDog on SingletrackWorld
---
"I'm going back in April and it just can't happen soon enough! Doug, Ed and the local guides, Antonio and Borja kept us laughing, smiling and riding the entire week. It was a joy to share their stunning trails and soak up first class food, booze and scenery with a really friendly group of riders."

BlueRob on SingletrackWorld
---
"I've done four mtbing hols over the years and this is by far the best"

MissNoTax on the Bike Radar Forum
---
Other Visits


SwitchBack: Doug has become a virtual expert on the area. Through Basque MTB he offers affordable holidays with top-notch guiding. For a hassle-free, truly insider's view into this wild landscape and stunning terrain, he's your man.Read the full story here.


Heidi Swift, Writer for Pelaton and SuperBlogger: "Then God said, "Let there be singletrack. And there was. And it was good. So good, in fact, that there were several sections just a touch outside my skill level, but the scenery was so mesmerizing, it didn't matter. Doug turned out to be an amazing and patient teacher, concerned more with the quality of my experience than anything else… at times when I couldn't clear the technical ascents.We stopped to take photographs.We stopped to let our jaws drop"Since Heidi is no longer riding for the Specialized trail crew this article has disappeared. You can read it here though.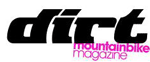 Dirt rates us as one of the top places in Europe to ride! Read our section here.


Exempt Clothing: "These trails were truly amazing, breath taking scenes and at times we were right on the edge with a massive drop to the side. You could hear the water crashing against the rocks. With the sun out and a gentle sea breeze we couldn't ask for anymore!" Read the full story here.


TrailGuru: "A trip to the Basque Country could be just the ticket to re-awaken your passion for the sport. My lasting impression was of how natural the trails are – totally different from the man-made centres back home." Read the full story here.


Press and Journal: Saddle up for holiday with a difference."One magical section, known as the Stinky Goat Track, is a highlight for its viciously fast descents through sun-dappled woods."Read the article here. Read the full story here.


Bicycling Magazine's "Five Big Cycling Trips": "Along Spain's sun-drenched northern coast you can sample trails as varied as the region's cuisine, with desert roller coasters, sea-swept paths, and Pyrenean­ rock gardens." Read the full story here.


BikeMagic: "Where else can one surf clean waves, sip beers by the beach and ride snakes of singletrack all in one afternoon?"Read the full story here.
Rowan Sorrell, Dirt Journalist, Track Builder and Pro Rider.

"I spent a week last year with Doug and Amaia from Basque MTB whilst filming Find for Reset Films. The area is a perfect getaway from our unpredictable and often bad weather, you have sun, sea and mountains, a perfect combo. We rode some big mountains, plenty of fast rolling trails on the lower foothills and beautiful coastal paths. The Basque region is very different to ride compared to Southern Spain, where it is loose, gravelly and rocky (but still lots of fun!) On the Basque trails you have lovely dirt not too dissimilar to mid Wales – except its dry! Doug is very easy going and passionate about the riding and the trails and Amaia knows everything there is to know about the Basque region which completes the trip, as you leave knowing a little more about somewhere new and that is what travel is all about." You can read more on Rowan's Blog, or what he wrote for Great-Rock


QECP Trail Builders: "The trails, in my opinion, were the best I have ever ridden… Doug seems to have access to limitless amounts of trails and tailors rides to the rider's wants, needs and skill levels. There is something for everyone at Basque MTB." Read the full story here.
Danny Visits for a Skills Week

"the best descending and general all round mountain biking I've ever experienced. The variance of trails we rode over the six days was unbelievable; intense, steep, rocky descents, long technical climbs and loads of fast and fun singletrack."Read the full story here.
Fyrish MTB Club

We can highly recommend Doug@ BasqueMTB to show you around some of the finest trails we have had the pleasure to cycle on. Read the full story here.
Let Us Show You A Great Holiday