Mountain Bike Holiday With IMB Mag

In April we showed IMBike Magazine aroud a mixture of our Basque Coast and Backcountry Pyrenees mountain bike holidays. You can read the article over on the IMBikeMag site but suffice to say that they liked it!
---
"The Basque Country in Northern Spain might just be our new favourite place to ride bikes in Northern Europe!"
---
The journalist and photographer was Will Simmonns and when the magazine had taken the photos they wanted, Will was kind enough to share his photos with us and give us permission to use them on our website. All the photos in this blog, apart from a couple which I took of Will riding, are by Will. I would highly recommend Will to anyone looking for some mountain bike photography, he´s a great rider and works really quickly too which was important because it meant that we were able to do full routes. Read on for plenty of Will´s photos and a story of the holiday!
Mountain Biking On the Basque Coast
Will, the IMB Mag photographer and journalist, arrived about lunchtime today and, with the sun beating down on the coast, it seemed a shame not to check out the coastal singletrack. After unpacking Will's really (really, really) nice Morewood Sukuma which he was testing for IMB Mag, we rode down to a little surfer´s bar on the coast and filling up on cokes and pintxos, (Basque tapas). At lunch we noticed a problem with Antonio's bike, meaning he would unfortunately miss today's ride and spend the rest of the trip borrowing bikes from various friends!
---
"I honestly can't recommend the riding here enough, the trails are seemingly endless and the quality of riding is on another level."
---
After lunch Will and I rode a little bit of trail which winds, twists and undulates its way along the Bizkayan coast with spectacular cliffs and views. We didn´t have a destination in mind, we just played around and enjoyed the twists and turns of the trail, playing on the natural berms and jumps and stopping occasionally for photographs. It was quickly obvious that Will is a very handy rider and he was throwing down some serious style on the trails, it's a pity he was stuck behind the camera so there's not many photos of him, just loads of me!

After riding for a bit longer than we meant to we finally set off for the first stop of our night, Spanish Utah. This is the usual first stop on our Backcountry Pyrenees trip, and it was the first place we were going to show Will. After a long drive we parked up at the lovely little hotel that we will use for our trips and enjoyed a big meal washed down by the very nice, and different, local wine.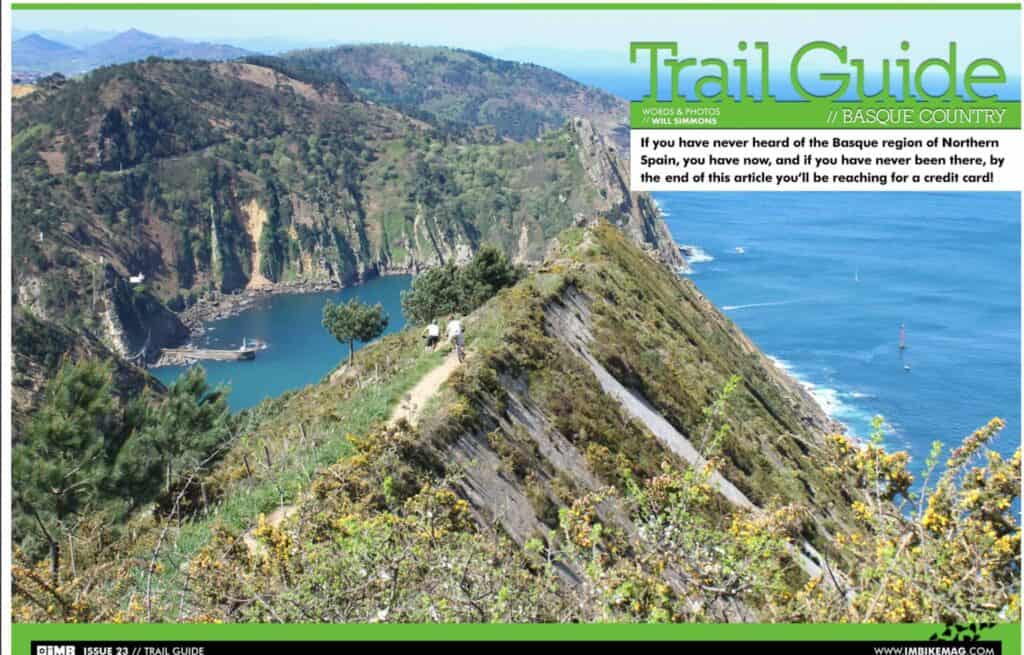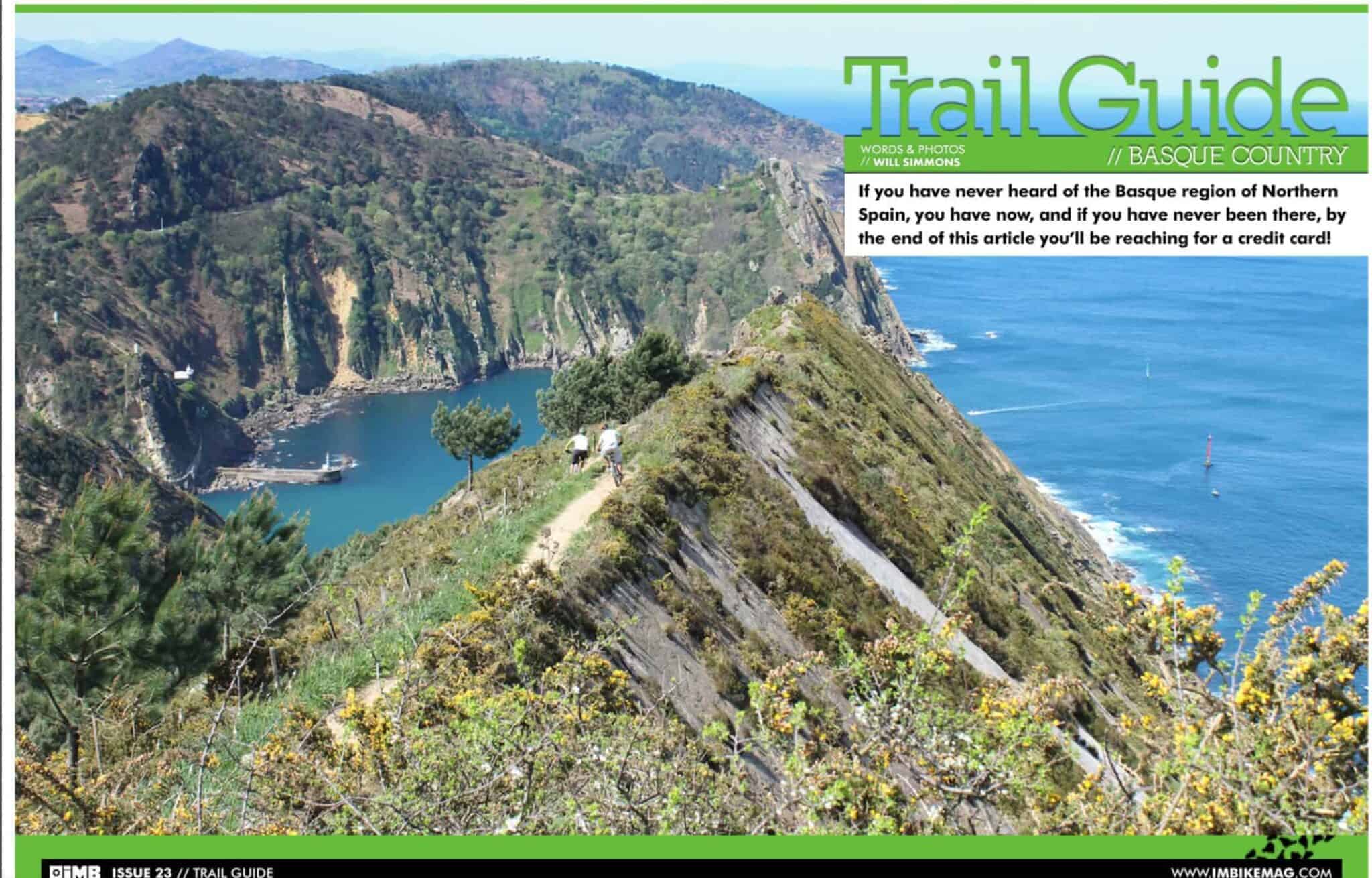 Mountain Biking in Spanish Utah: Grey Canyons
Like Will said to me today, "there's almost too much to take photos of", so I'm going to split today into two parts to try and organise all the photos. The first part of this trail is a grey earth canyon which we follow for around 15-20km, first on a serpentine descent which is up there with the best stuff I've ever ridden, then on a gradual climb with plenty of technical sections to keep up your interest. The quality of the trail is amazing but it lacks the amazing views which will follow in the second part of the day.
---
"The trail continued its winding way below these cliffs, giving amazing views and stunning riding"
---
Spanish Utah Part 2: Red Cliffs
After a spot of lunch we dropped into the red rock section of this trail. This is the part which takes your breath away, stunningly perfect singletrack with amazing backdrops.
---
"It's Utah but there is nobody here."
---
We have only ever seen one person during our rides, a man out walking extravagantly in his y-fronts who was as surprised to see us as we were to see him! The trail is really flowy as it climbs to a high point and then drops down a very technical gully, with some really steep sections, before it all becomes a bit of a bermy canyon with big walls which tempt you to see how high you can push. After a short climb it's the final descent of the day, a long descent which is exposed in places but is fast and flowy without ever being too technical. Speeds are high and grins were huge when we finished, dropping back into the old town which suddenly seems unexpectedly populated and modern after our day of riding through the wild west!
That night we drove onto another stop on our Backcountry Pyrenees trip. It was a bit of a longer drive than normal on our Pyrenees holidays because we missed out a couple of stops and drove on to day 4 of our usual Pyrenees holiday.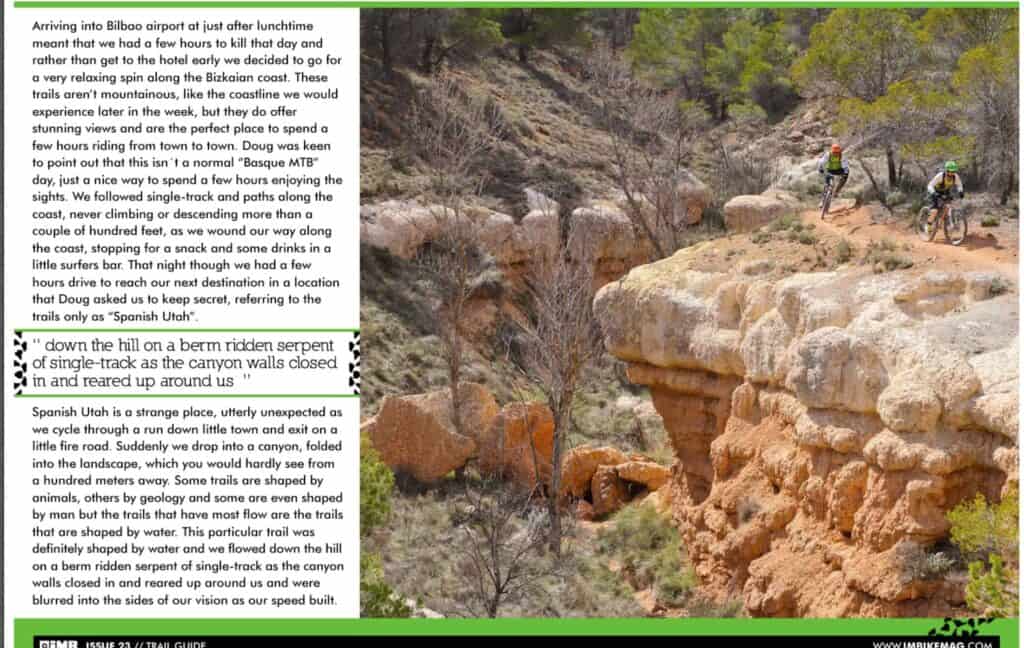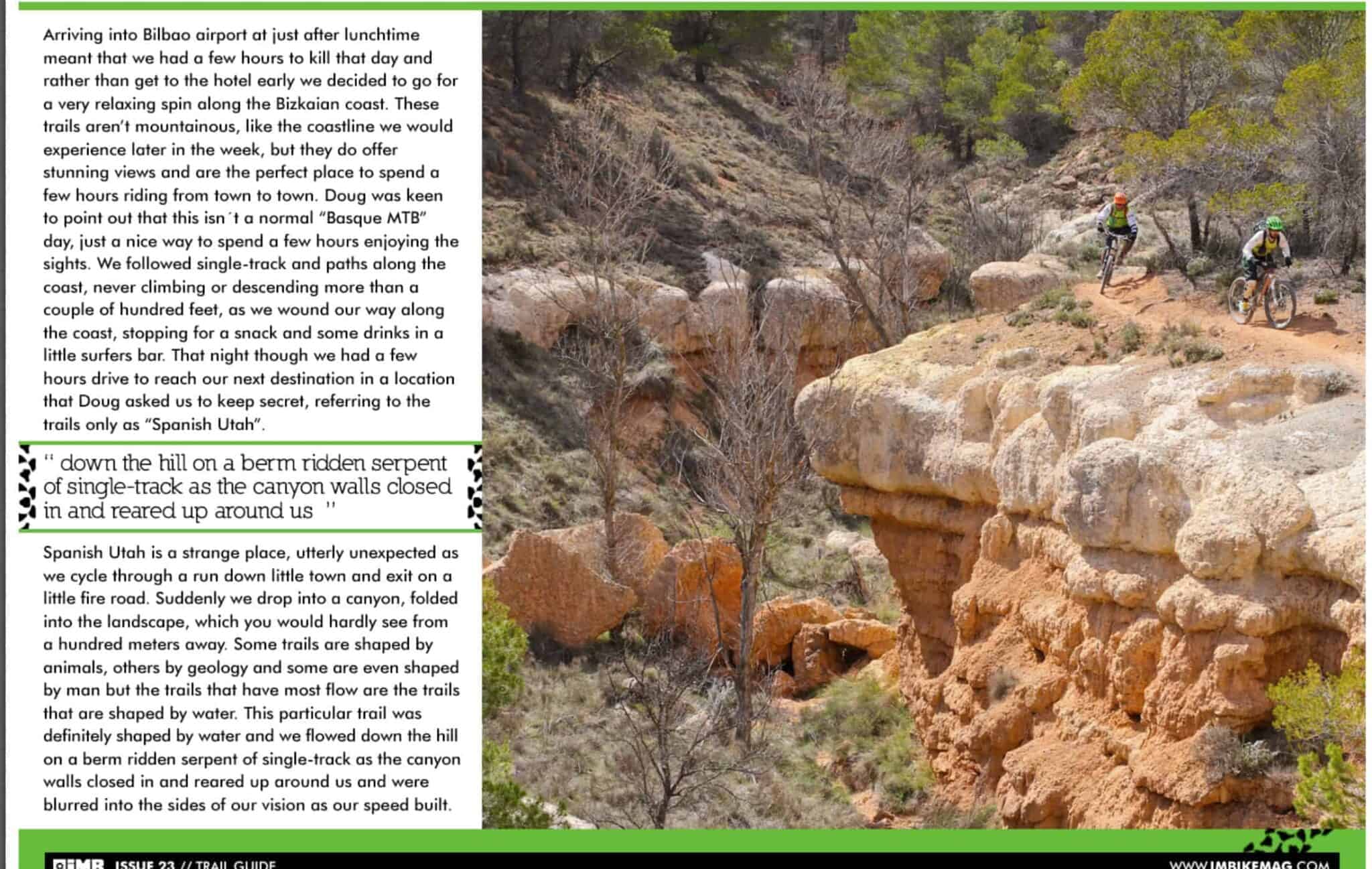 Big Mountain Day in the Pyrenees
Waking up today was a bit dissapointing as the mountains were shrouded in clouds. It was atmospheric and the temperatures were looking good for biking but it didn't look like perfect photography weather. We need not have worried though because as we loaded the bikes into the 4×4 and started the long drive to the top of the ride, the sun gradually burned off most of the clouds.
---
"I was starting to wonder if I had died and gone to heaven!"
---
This day is just great and Will was soon smiling and snapping in equal measures. The snow we have had in previous weeks was sadly gone but the trail was in great shape as we traversed through the scree slopes and high mountain forests. We were joined today by Antonio and Dave, who will both be guiding for basqueMTB this year, and watching them in their basqueMTB tops as we guided Will through the big mountains I suddenly had a pretty emotional moment; 6 years ago none of this existed and suddenly it made me realise how far we'd come. My emotional moment passed as we had huge portions of lunch and continued with our descent! What a great day and spirits were high as we arrived back in the little village where we started! Normally we would relax and drink beer at the end of this day but today we had to hit the roads again to get Will to the next location we wanted to show him. Time to hit the Basque coast!
---
"we ate the biggest steaks I have ever had cooked, or not cooked, to perfection"
---
Tonight we stopped in a little village around 25 minutes from the Basque coast. This village is home to a restaurant and appartments owned by a biking friend of mine and we were going to stay here. The apartments have all been done up and are a really high standard, there's a full workshop and bike wash facility and the restaurant is absolutely fantastic! The steaks, called txuletas, are some of the best I have ever had.
Big Mountain Day on Basque Coast Mountain Bike Holiday
Waking up early we set off to ride a classic Basque Coast route, a big ridgeline traverse which starts in the Basque Country and ends in Navarra. Normally we do this with a dedicated driver, however today we all wanted to be in the photos so we left one van at the end on our way past and then drove up to a pass, at 750m, where we were going to start our ride. With the sun beating down on us but a cool breeze keeping the sweat at bay, we set off. Within 2 minutes Antonio had broken his bike, (ahem, again!), and turned back to the van to try and fix it. How we laughed, until the freehub failed on my SRAM Rise 60 wheels, which we eventually traced to a broken axel! I raced back to the van, picked up my trusty and unbreakable Cove GSpot and Antonio and we were all quickly reunited and on our way.
---
"If you have never heard of the Basque region of Northern Spain, you have now, and if you have never been there, by the end of this article you'll be reaching for a a credit card!"
---
What a ride we had that day. Around 30km with around 90% singletrack. The trail hugs the ridgeline, sometimes keeping in the shady forest, offering perfect rooty singletrack, and sometimes out on the open hillside with fast contour singletrack that flatters you with speed and frightens you with mild exposure. We had to hike a bike a bit, carrying our bikes for one section, and then the descent was before us. All 11km of it. We all ride at around the same level which meant epic trains as we followed each other, sometimes dragging the rider behind out of his comfort zone and sometimes pushing the rider in front beyond his limits. Of course at the end there was a bar, and beer, and of course Will was hungry so we arranged for an early meal there while the post ride euphoria gradually faded.

Personally speaking it was great for me that Will rated today as one of his favourites, proving once again that the Basque Country holds its own as a riding destination when compared with the bigger Pyrenees mountains!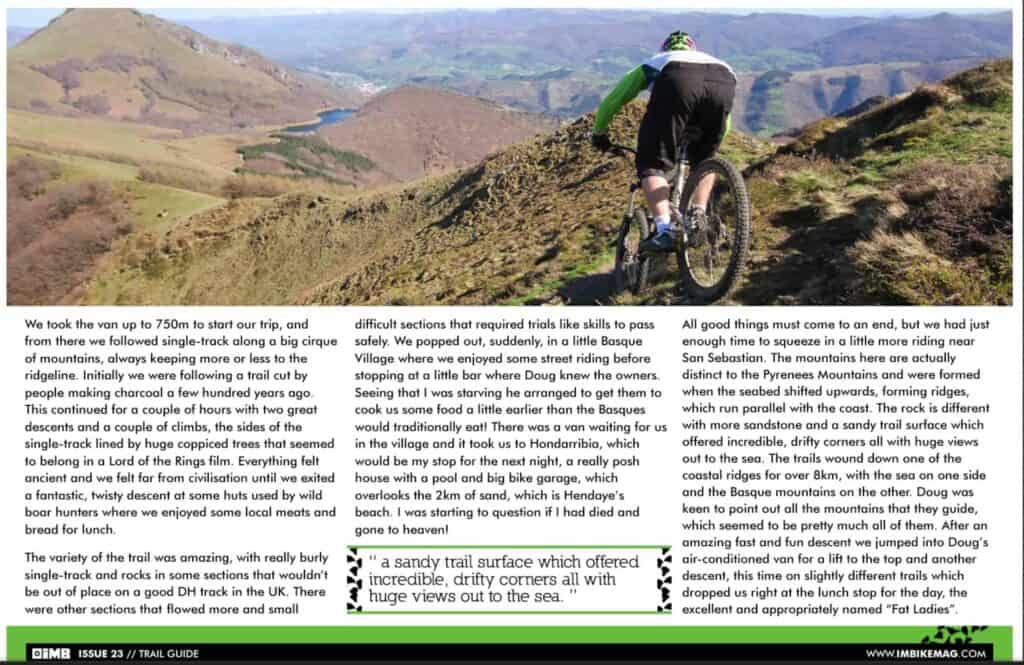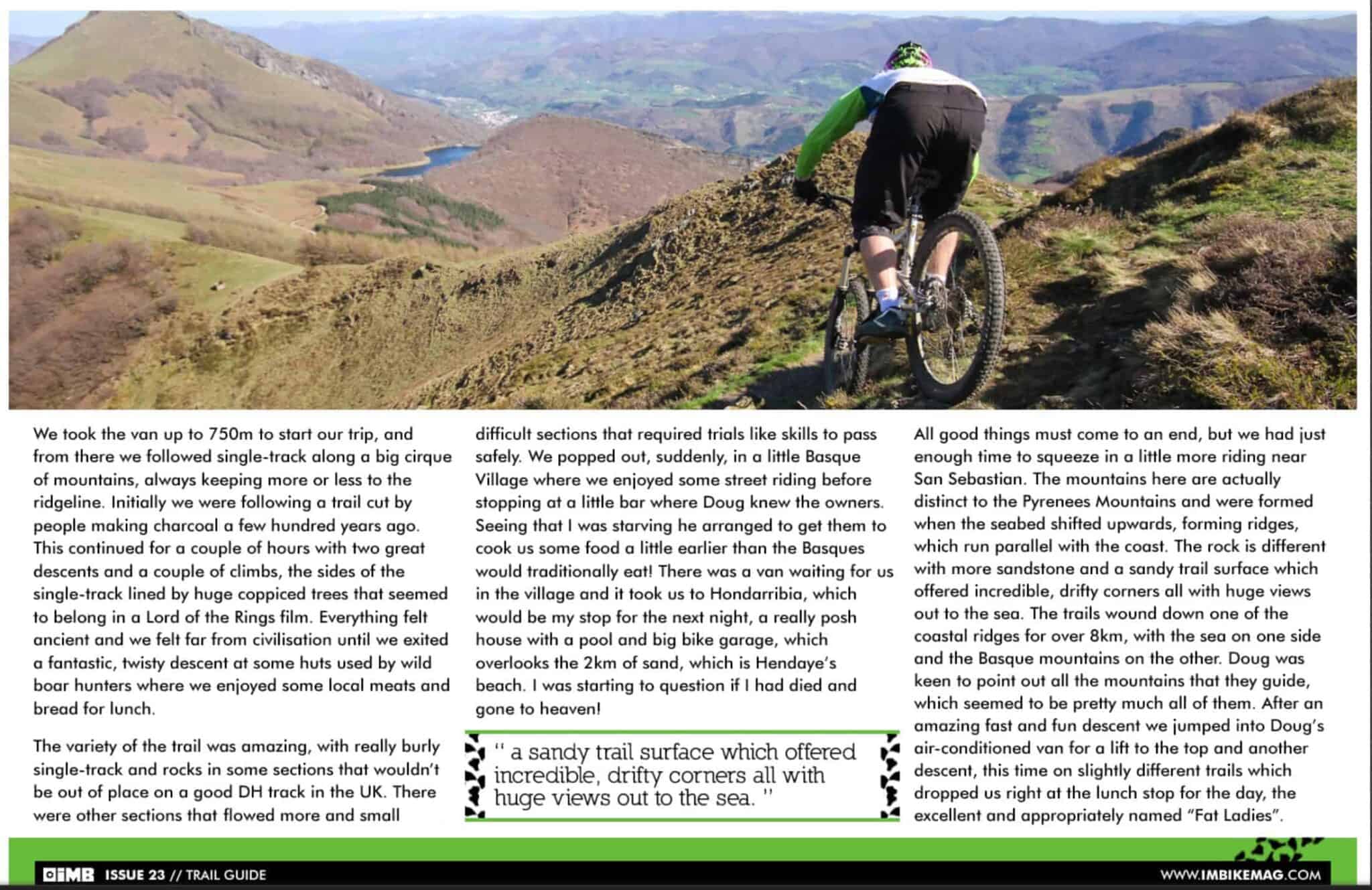 Last Day of the Holiday: Biking into San Sebastian
The day broke bright and hot on the Basque Coast. Will stayed a night at our usual holiday accommodation in Hondarribia and he enjoyed the touch of luxury and the big views from the breakfast table. We were going to ride a typical day from our Basque Coast mountain bike holidays, a trip along the coast into San Sebastian. We ran a couple of shuttles down "All Along the Watchtowers", showing Will a couple of the variations there, before having a nice lunch in our usual stop.
---
"riding at home will never quite be the same again, knowing there is this magical place a few hours flight away…"
---
After that we took the little boat and rode down into San Sebastian. By the time we got to the last climb I had started to feel a bit unwell, the temperature was about 32degC yet I felt cold and shivery and had no power and soon I was reduced to pushing my bike. We reached San Sebastian´s beach and quickly jumped into the sea to cool off, enjoying the cold Atlantic waters after a hot day on the bikes. After our dip we dumped bikes in the van and went into the old town for a dinner of pintxos, the Basque version of tapas. By this time I was feeling very sick indeed and was struggling to stay vertical so unfortunately we had to leave and I went home and spend the rest of the night vomiting. The next day Will wasn´t due to leave until the evening so we had planned a day of pintxos, massages and spa´s but unfortunately I had to leave Will to fend for himself. Looking back I think I was probably dehydrated and the hot day affected me badly, oh well at least we got to the end of the riding!
All in all it was a great trip; Will obviously enjoyed himself a lot and was keen to come back. The photos were great and it was nice to get some "proper" photos of our trails. So, thanks a lot Will, it was great meeting you and riding with you, hope to see you out here again soon!
Book your BasqueMTB Mountain Bike Holiday!
Check Our Latest Stories