Transfer Bus from Bilbao Airport to San Sebastian
This is a very quick guide to taking the transfer bus from Bilbao airport to San Sebastian/Donostia and back. (note that San Sebastian and Donostia are different names for the same place). Note that prices change occasionally so the cost might not be accurate. You can get full pricings and book your tickets at the PESA website here: Bilbao Airport to San Sebastian Bus Details in English.
We no longer offer transfers from Bilbao as part of our mountain bike holidays, this is due to feedback from guests that the transfer bus is really, really easy. The bus takes you directly to San Sebastian where we will pick you up. Here is a step by step with pictures for the journey from Bilbao Airport to San Sebastian.
Bus Transfer Bilbao Airport to San Sebastian/Donostia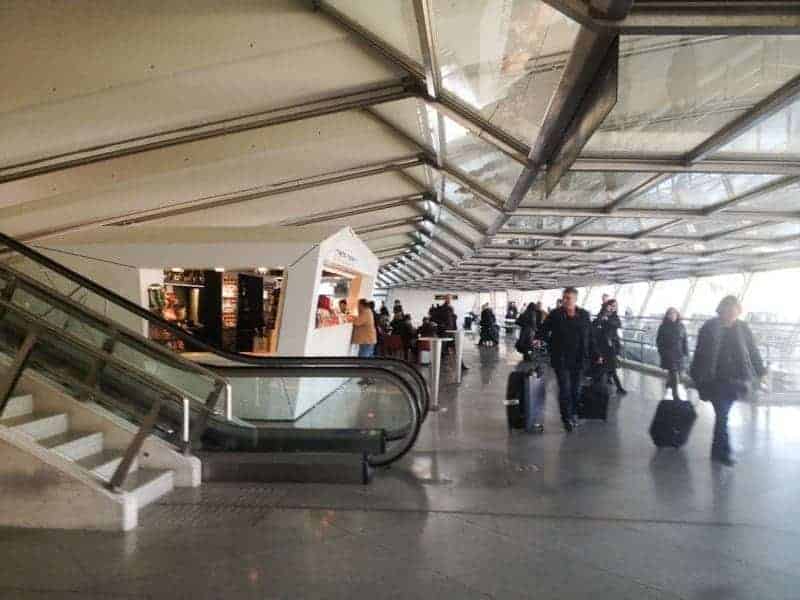 When you arrive from baggage reclaim you will come from immediately behind this coffee place. Just turn right and walk towards when I am standing when I took this shot.
---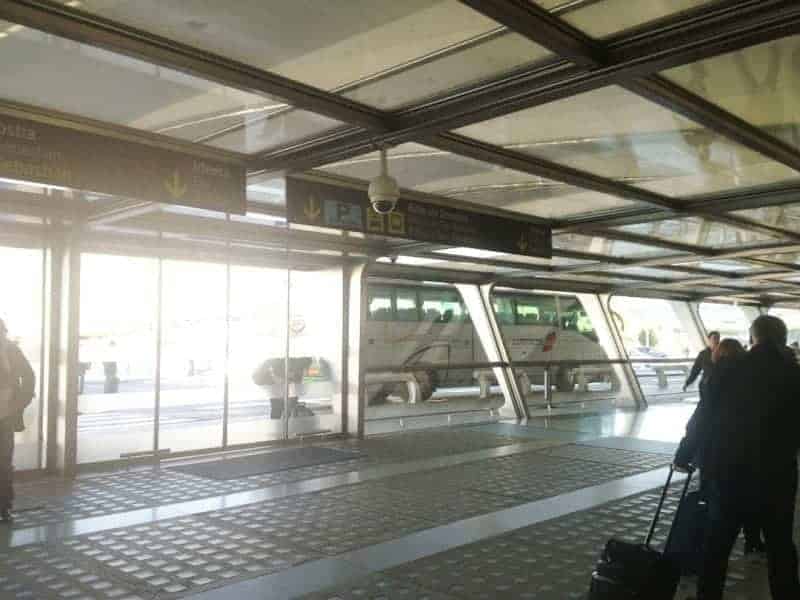 From the coffee place you will see this sign, saying "Bilbao and Donostia". That is your bus waiting behind the glass. If there's a queue then get your bike loaded, if not then have a coffee. Buses leave at quarter to every hour and usually arrive about 30minutes prior to departure.
---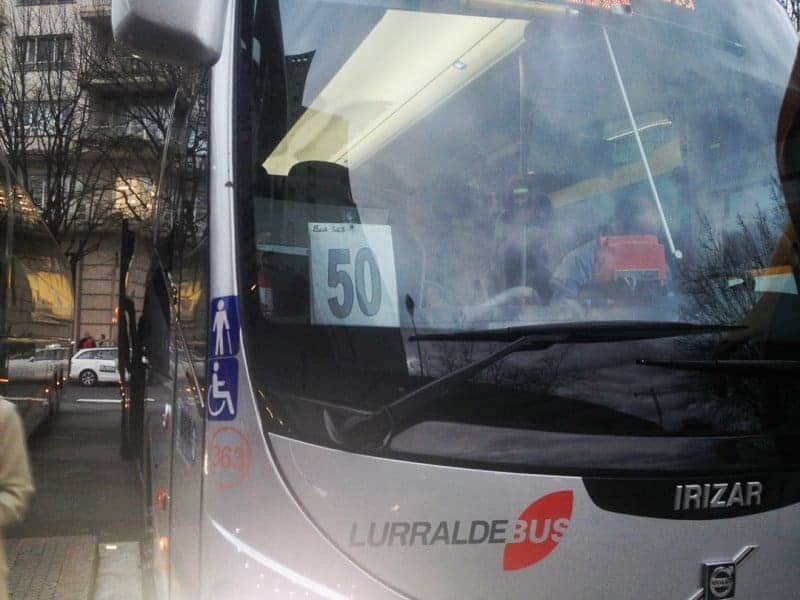 Your bus is the number 50, will look something like this, and will have the destination 'Donostia' displayed on the front, it won't always say 'San Sebastian'. Though you should in theory buy your ticket first, then load your bike bag, for this leg of the journey do what the locals do and get your bag loaded first and then queue to pay the driver. If you don´t do this then you might find that there isn´t space for your bike bags, particularly if you are part of a group. You can also now buy your ticket before getting on the bus at the small machine which is just next to the information kiosk next to the bus stand.
---
Tell the driver "San Sebastian" and hand over €16.85 (he/she will give change for €20 note). You can sit anywhere. The Wi-Fi address is the 5-digit number on your ticket. The journey takes a little over an hour. Enjoy the view of the mountains, tomorrow you will be in them!
The bus stops a few times in San Sebastian, don't get off until you arrive at the underground bus station. We will be in touch with instructions of where we will meet closer to the time but normally we meet one level below where the bus arrives, in P1 which is the main parking.
Bus Transfer San Sebastian/Donostia to Bilbao / Aeropuerto Liou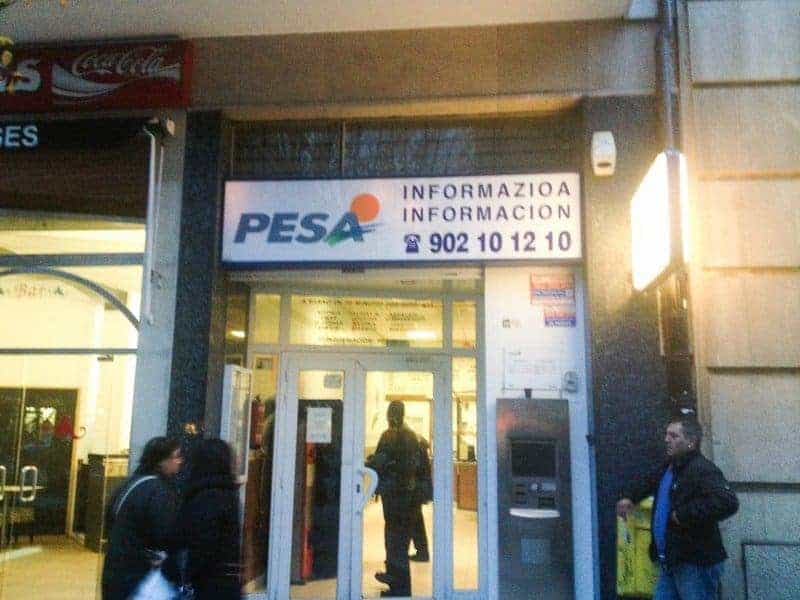 For the return trip, you need to go the ticket kiosk. It looks something like this, there have been some changes. Ask for "Aeropuerto Bilbao", the cost is currently €16.85 but check before. There is also a ticket machine, just opposite, with a logo the same which you can get in various languages.
---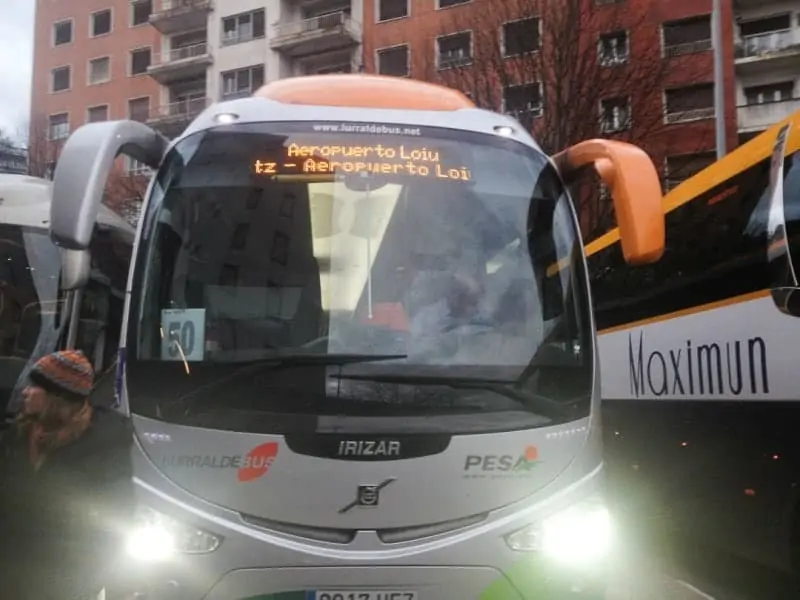 Your bus will look like this, but it will be parked next to the ticket office, in the underground depot. It will say Aeropuerto Loiu. The bus generally arrives 5 minutes before the scheduled departure time.
---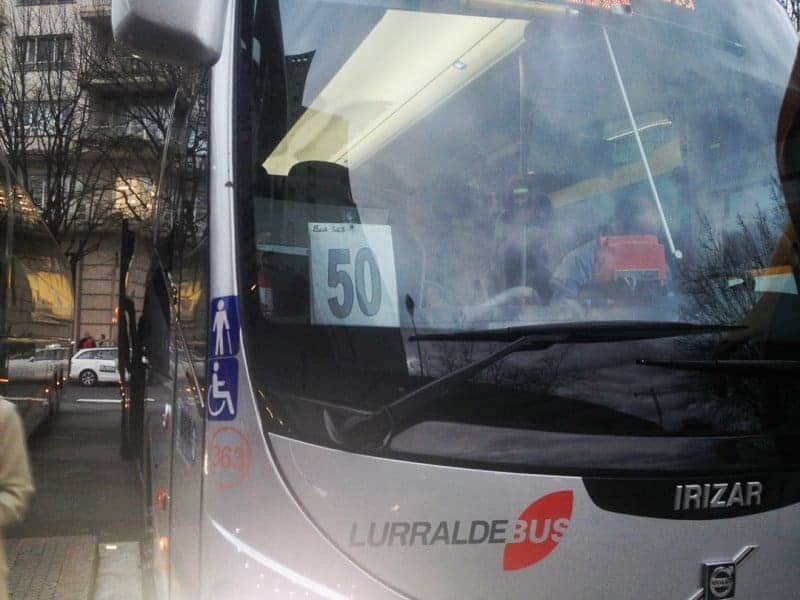 The bus number is on your ticket. Again, load your bags straight away, don't wait and be polite. You have a seat but make sure you get your bike on first as if there isn´t space you won't get on the bus and will have to wait for the next one. Don't panic though, there is lots of space on these airport busses.
---
For the journey from San Sebastian to Bilbao there are allocated seats. It´s the number on the ticket under "ESERL". People generally aren´t too fussy about where they sit so I generally don´t worry if someone is sitting in my seat number! Busses leave on the hour.
You will know when you get to the airport. I haven't taken a photo because honestly if you don't know the airport when you get there then you will probably not have survived a full week holiday!
Book your BasqueMTB Mountain Bike Holiday!
Check Our Latest Stories