It is time to start changing over bikes, ready for next season's holidays, and this year there were some interesting choices to make. Usually each guide has two bikes, a trail bike, and an enduro bike, and up until now the choice has been pretty simple; a Rallon and an Occam!
This year, after much debate, I have decided to change my much loved Occam for a Rise, meaning my trail bike will be the Orbea Rise and my enduro bike will be the new Rallon. I think that many people are facing a similar choice and maybe my thought process will be of use for people.
If you want to jump to a section, you can do that here:
Orbea Rise: Rides Like a Trail Bike
Orbea Rise: A Bike for Long Rides
Orbea Rise: More Than Enough Power
Orbea Rise: Weights compared to my other bikes
I have been riding the Orbea Rise since the early prototype phase and have racked up lots and lots of days riding it. I have been spending plenty of time riding with the engineers who designed this bike as well, meaning that I have a pretty good understanding of it all. Finally recently we have been guiding using the Rise so that gives another angle.
Let's see if I can tell you what is important about the Orbea Rise in 3 points:
Point 1: Orbea Rise is… A Trail Bike
STABLE AND PLAYFUL
The Rise uses pretty much the same geometry as the Occam, only the chainstays are 5mm longer. The suspension is largely the same too, with just a touch more progression. Additionally, as we all know, the Rise is light for an e-bike, although only a few of us are going to want to ride it at the lightest possible weight of around 16kg.
What this means is that the Rise feels like a trail bike on the descents, by that I mean it is easy to set up for corners, it brakes really naturally, it is easy to adjust lines and of course, you can bunny hop, jump, manual and slide it like a trail bike. I feel that the Rise descends slightly better than the standard Occam with the same air shock, thanks to its low center of gravity and slightly more progressive kinematics, making it feel a bit more stable without feeling less playful.
---
CLIMBS NATURALLY
Of course, going down is only half the battle. The Rise climbs really naturally too, with the power from the motor helping you, rather than taking over the ride. This is key for my decision. I've heard people say that e-bikes don't rob your fitness but that's simply not true, if you only ride full-power e-bikes you will find that your fitness drops. A lot. The only exception might be people who didn't have much fitness in the first place.
The key for the Rise here is that it is fun to ride, especially in tight and twisty trails or on steep trails where a regular e-bike feels cumbersome and heavy. I get help to ride faster but still get 3-4 hour rides where I get a real full-body workout no matter how fit I am.
The Rise has 3 modes which I explain like this:
ECO: Here the bike just helps a bit. On flatter trails it really doesn't help much but the steeper it gets the more it helps. You are really working hard in this mode and sweating. It feels great when you are fresh but when you get tired it feels like a lot of work!
Good for riding with non-e-bikers who are fitter than you.
Bad for keeping up with proper e-bikes.

TRAIL: This is my favourite mode. More than fast enough but you are working too, the more you pedal the more the bike gives meaning you have great motivation for pedalling hard.
Good for riding with e-bikers.
Bad for riding with non-e-bikers unless they are really fit.

BOOST: This is the least used mode for me. It feels the most like a traditional e-bike but the battery only lasts for around 800-1000m.
Good for when you are in a hurry or feeling lazy.
Bad for battery life and also the bike feels less controlled on the climbs.
Point 2: Orbea Rise is… Designed for Long Rides
RANGE ANXIETY
Range anxiety is real! I wrote about this before but it is one of the reasons I don't want just a full-power e-bike. I want to not be watching the battery the whole time. With the Rise I don't even have the battery indicator, I know that I can ride 3 hours, or around 2000m of climbing, with just the main battery and using a mix of ECO and TRAIL. If I'm going for longer rides then I'll take a range extender and that gives me over 3000m climbing which is more than enough for any day I want. Sometimes if I'm exhausted but want to ride I'll use the range extender and just sit in turbo the whole time.
The beauty of the Rise is that if the battery does run out you can just pedal it like a (heavy) normal bike.
---
THE 1.5 FACTOR
How does the Rise do this? I think that this is the most confusing thing for people. They see the small battery and it doesn't make sense for them. Orbea calls it the 1.5x factor. It's really simple though, the answer is that YOU ARE DOING MORE WORK. The bike is more efficient, weighs less, has less drag, and supplies peak power at a pedal cadence which is more efficient for the rider and all these things help the range but they also help you do more of the work. Add in how the RS software meters out the assistance and what you have is a bike that asks you to help it BUT makes it feel natural and fun.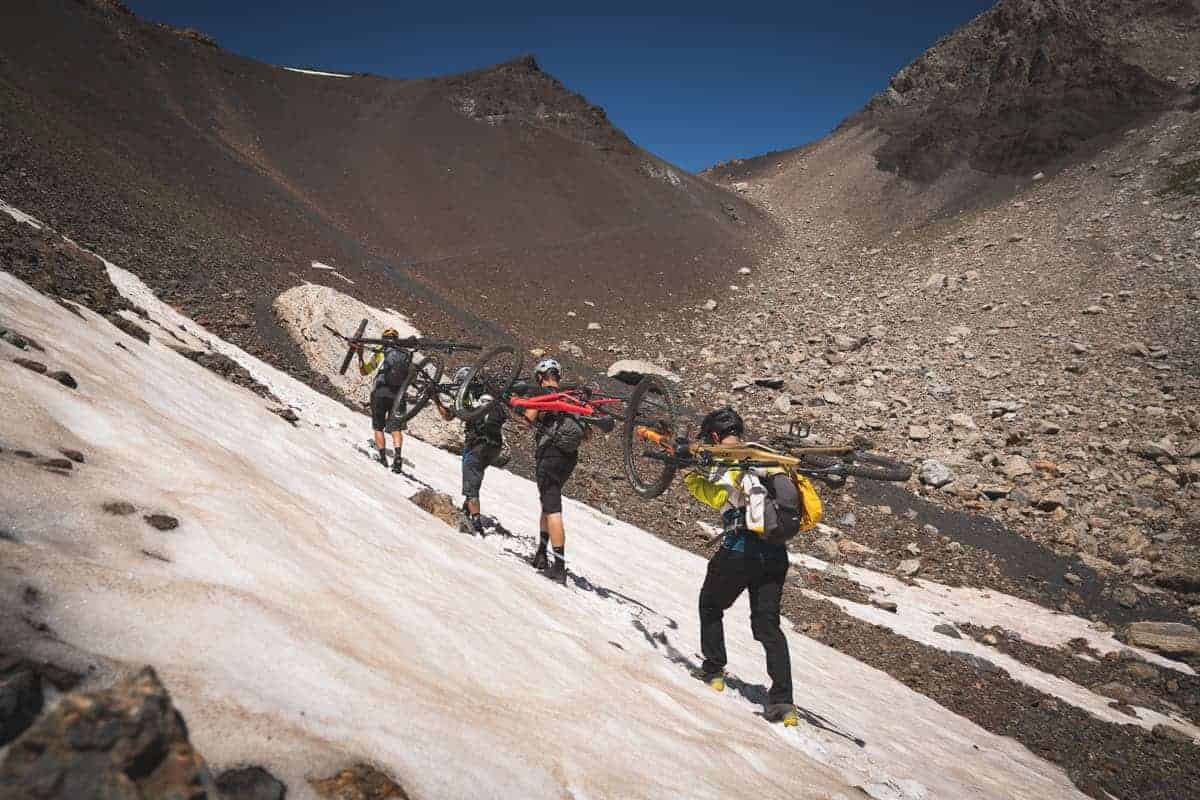 Another key part of long rides is the hike-a-bike. For my riding, I need to carry the bike occasionally to get to the higher peaks, with the Rise that is totally possible.
Point 3: Orbea Rise is… More than Powerful Enough
I hear a lot of rubbish spouted about how the 60Nm isn't enough. Rubbish. Put the Rise in Turbo in Mode 2 and it will climb the walls. It climbs better than my Wild FS because you can control it more thanks to its natural assistance, but it climbs as steep as you want. Over winter I can be as heavy as 95kg, plus my guiding kit, and the Rise doesn't bat an eyelid. The range drops a lot with the extra weight but that is just physics!
My Orbea Rise
Here is how I've chosen to build my Rise:
Orbea Rise Carbon Frame size L
Fox 36 Factory Grip2 150mm Fork
Fox DPX2 Facory Shock
Raceface Turbine R30 TLR Wheels
Fox Transfer Factory Dropper
Shimano XT Brakes and Drivetrain
Galfer 180mm Disc Rotors and Purple Pads
Raceface Next Handlebars with Turbine 35mm stem
Raceface Atlas Flat Pedals
e*thirteen aluminium Cranks
Tyres Set 1: Maxxis Minion DHF / DHR Exo+ front and DD rear.
Tyres Set 2: Maxxis Assegai Front, DHR rear, in DH casing.
Orbea Rise Weights
And what everyone wants to know!
The weight!
With the heavy tires my bike weighs 19,4kg.
With the lighter tires, my bike weighs 18,0kg.
And my other bikes? Well, the Occam that the Rise replaces weighs 13,7kg and the Rallon R5 (which will be replaced with the new Rallon shortly) with DH tires, coil shock, Fox 38's and aluminum bars weighs 15,6kg.
Questions?
Have you got any questions about the Rise? I'm sure you do! If you want to ask over on social media then check out the posts on the Rise. I'm sure a lot of you are facing a similar decision as me and hopefully this article has helped but I'm happy to answer more questions. I'll update this article with the best questions.
Answered Questions.
At 19,4kg does the Rise not just feel like the WILD FS?
The answer is 100% no! Have you ever put DH tyres on your trail bike? If you have then that is the best way to explain how it feels. It has the feel of a trail bike but more confident and with more grip.
The Wild FS is around 5 kg heavier, minimum, and is also twice as progressive. Those two things match up to give it a totally different feel, more like a DH bike than an e-bike.
If you had to choose one bike would it be the Rallon or the Rise?
The Rallon. Every time. There is still a big % of my riding that I (rightly or wrongly) feel that I need the Rallon for. That % of my riding is a big part of how I see myself as a rider and I want to feel comfortable pushing my personal limits, the Rallon is a great partner for that.
Will you use the Rise for guiding?
Absolutely, it works perfectly for that. It is fun to ride and nimble on the trails. In ECO it lets me keep up with fit riders but not use too much energy. Stick it into TURBO and I can dash from the back of the group to the front quickly. It is easy to load on the trailers and hike-a-bike if I need to. If anything goes wrong, or I forget to charge it, I can pedal it without the motor no problems.
Would you change anything about the Rise?
Not really. I know a lot of people are adding bigger forks, and over-shocking them for more travel but I really don't feel that it needs it. If it wasn't for the range extender I might have chosen the Rise H, with the 540Wh battery, but as it is I like my lighter Rise carbon with the 360Wh battery. I add the extender for longer rides.
Any problems with the bike?
Occasionally I get a red flashing light when I start the bike and have to switch it off and start it again. I had the battery screw slacken off slightly when new plus the cranks slacken slightly. I added threadlock and tightened them up and no more issues. Other than that nothing.