Shimano XT 12 Speed Review
The team at basqueMTB were amongst the first people world wide to ride the new Shimano XT 12 speed drivetrain. That was back in May in the Pyrenees when we organised the launch of the new Orbea Occam and Shimano joined in to preview their drivetrain to the journalist. We had one of the Shimano main guys along on that trip and got the chance to ask him lots of questions. He was a very good guy, a magician at making the beers disappear, and very honest so it was a fantastic opportunity to ask and share our experiences. Read on for the full review, we will do it component by component.
Shimano XT 12 Speed Review | The Brakes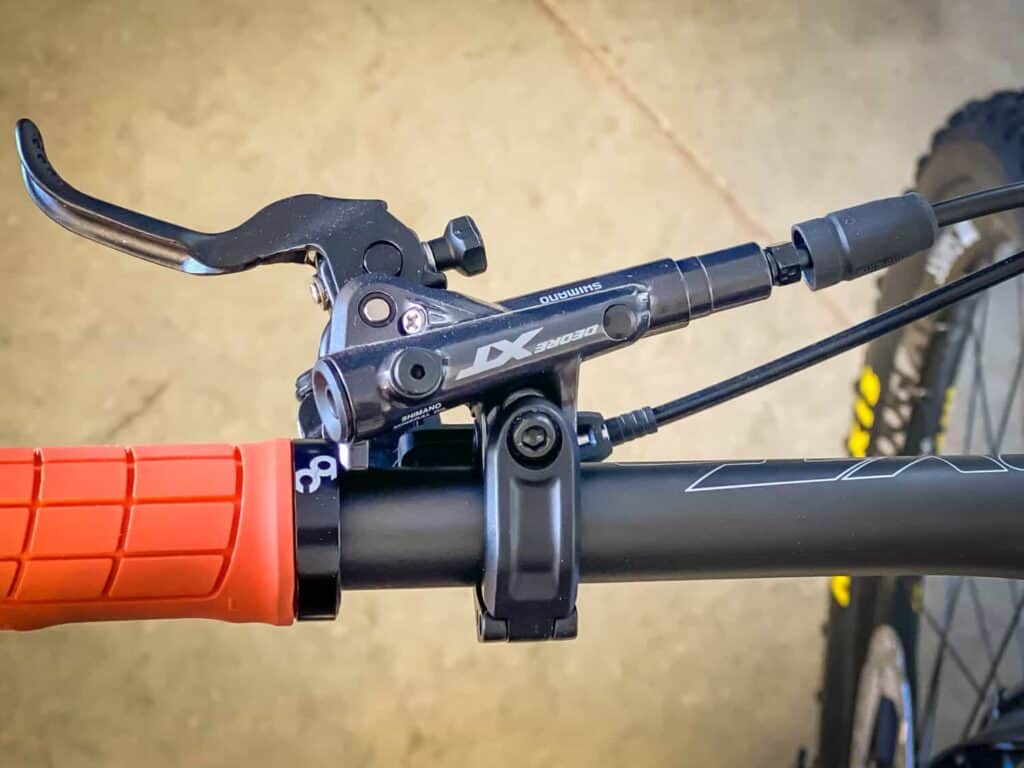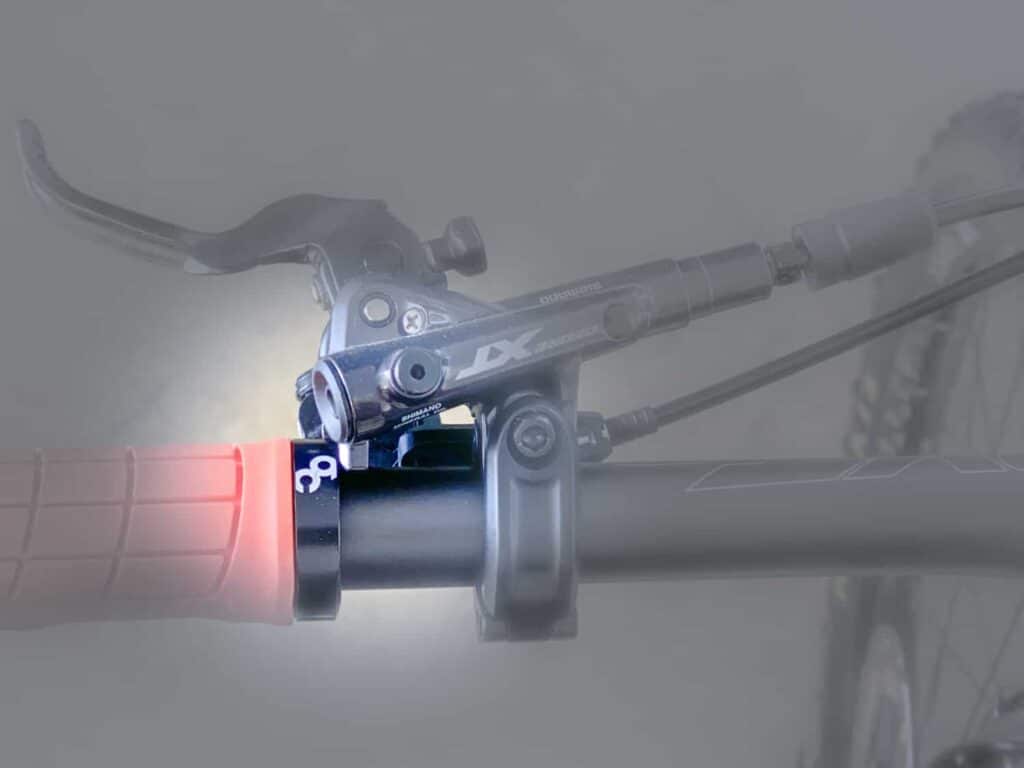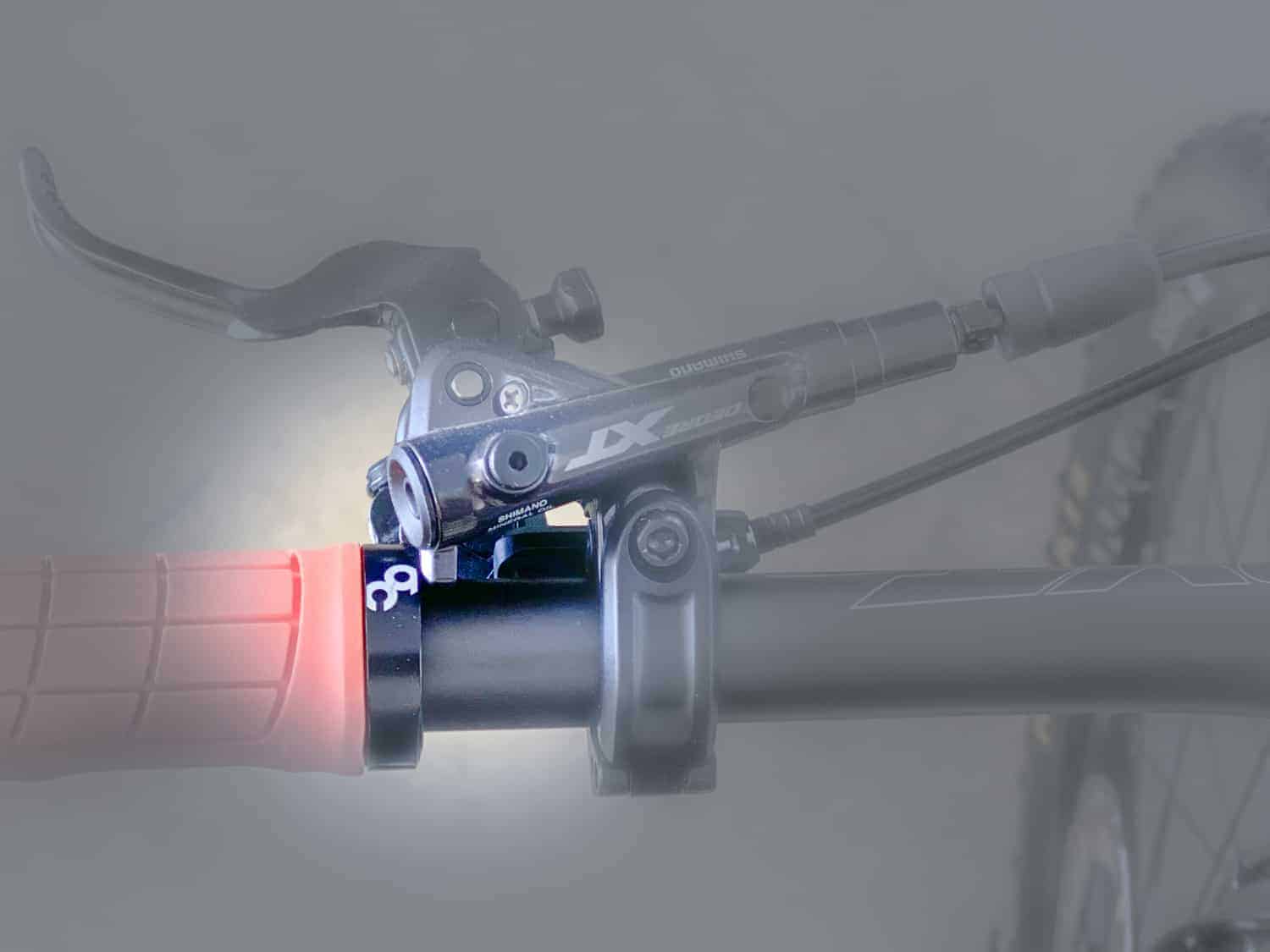 Here you see the support which increases feel.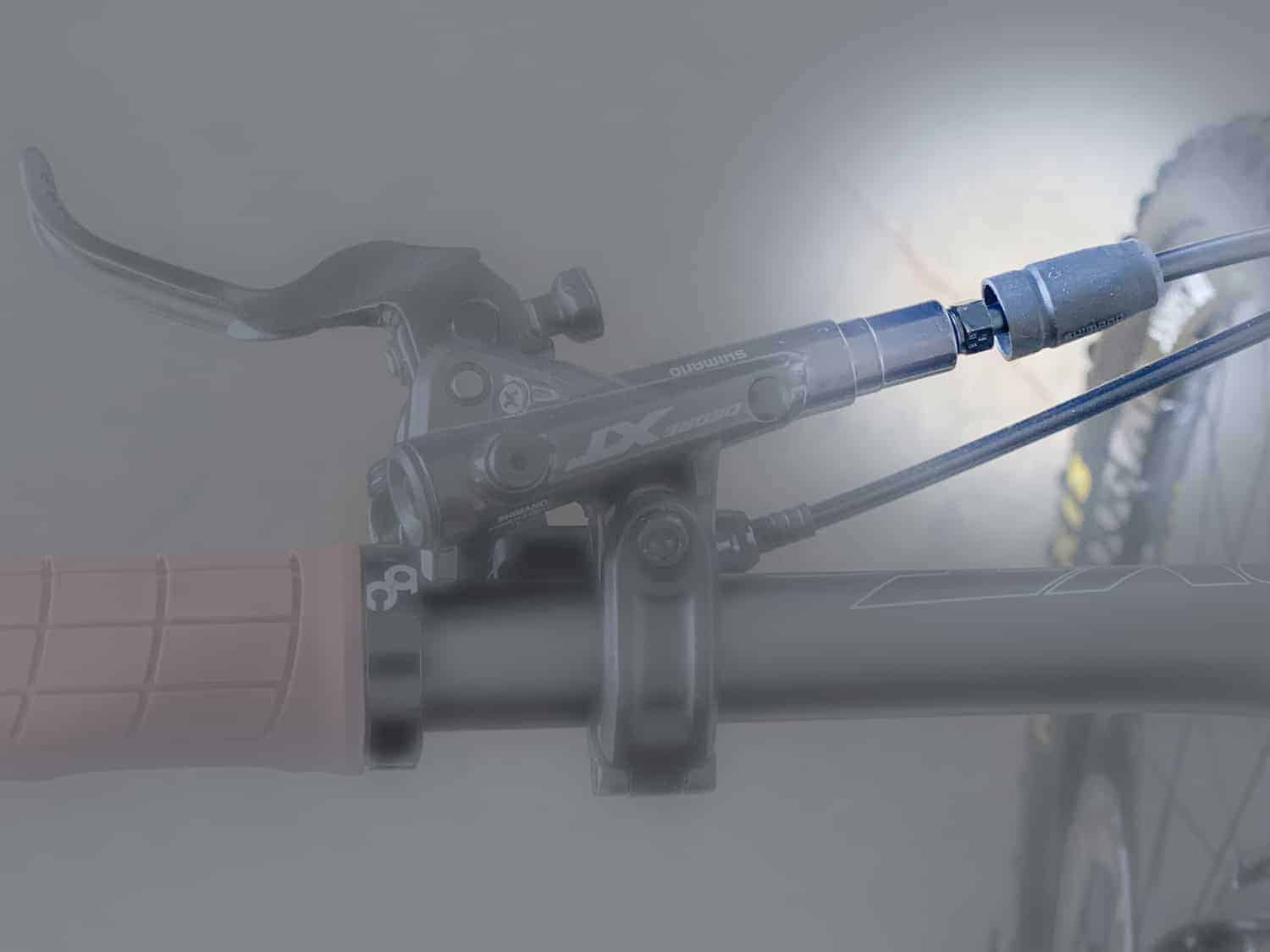 And here you have the improved end cap thing.
The new Shimano XT brakes are far, far better and improved reliability is promised.

Doug´s Comment
Let me go through my experience of the Shimano XT brakes honestly first. Back in 2010 I changed from using SRAM brakes to the Shimano XT brakes. I was having a lot of issues with the SRAM brakes in terms of constantly bleeding, sudden failures and general issues with air entering when they got hot. I switched to the far cheaper Shimano XT brakes and it was night and day: much, much better. I was really happy with the Shimano XT brakes up until 2017, that when we started having lots of problems. You have probably heard this already, we had the dreaded changeable bite point, we had brakes suddenly get air and we had lots and lots of issues with the vertical uplift trailers and bikes arriving to the top not working. All my guides carried a full bleeding kit in their backpacks to deal with the issues. There were other, more terminal issues too though, we had problems with seals failing in the pistons and suddenly having a brake that wouldn´t work and you couldn´t bleed.
To be clear here, our bikes have a very hard life for brakes, especially our hire bikes.
Why is that?
It is because we need to change brakes from UK to EU style, which involves disconnecting the hose. In addition hire bikes tend to be braked a fair bit, with people unfamiliar with the bikes and terrain. The other two factors are the long, long descents we have plus the fact that we run a lot of uplifts, on bumpy tracks using trailers which hold the bikes vertically. A perfect storm for brake problems.
I talked to the Shimano guy honestly about these problems. It seems like we are seeing a far higher instance than other people, something I totally believe. He acknowledged issues though and only told me that we won´t have the same issues with the new brakes. All I can say is so far my experience matches that promise.
Update: Best Discs for Shimano XT Brakes
During a recent presentation we had a very interesting talk which it is worth sharing here. Lots of people comment on the varying bite-point of Shimano brakes and it is definitely a thing, although in my experience it needs to be a long steep descent. One cause of this is the Shimano disks heating up and due to the different materials they can warp slightly. This is enough to push the pistons back a bit so the first time you pull the brake the bite point has changed. This happens with Shimano XT 12 Speed groupset as well.
The solution? Orbea are now specifying their bikes with Galfer discs, which are solid high quality steel. This is a massive improvement. I have to say I have never found it to be a big issue but other people do and I know some professional riders who are really happy with the improvement with the new Galfer discs. You can read for yourself on the Galfer website.
In summary of my expereinces, the new XT brakes are really, really great. The XTR too, but maybe that´s a different review. I think it´s a good idea to just list the reasons why I think that they are great.
Shimano XT Reliability.
So far, with many, many miles, the brakes have been faultless. Nobody on the basqueMTB team have experienced the wandering bite point or had to bleed the brakes. The real test will be after a year of use for the hire bikes and I will update this review after that.
Shimano XT Feel.
The brakes feel so much better. There is just one simple reason, there is a metal lump at the outboard end of the master piston cylinder which stops the brakes flexing around the clamp when you pull the levers. It makes a massive difference.
Note: We usually leave our brakes a little loose so they turn instead of break in a crash. With this lump you need to run the clamps a little looser than normal.
Shimano XT Details.
There are few improved things but one i really noticed is the rubber cover which slides up the hose and covers the bolt where it enters the lever body is much improved. It seems that this will solve the annoying issue where this is always sliding down the hose!
Shimano XT 12 Speed Review | The Gears
Really good as well! The Shimano XT 12 Speed is a big improvement over the SRAM Eagle I have been using.

Doug´s Comment
Update: Shimano XT 12 Speed Clutch Issues
There have been some issues with the clutches on the Shimano XT 12 Speed derailleurs. Sometimes it is possible to fix this just by opening and cleaning then degreasing with a light grease. We have had quite a bit of success with this. It seems that they come very dry from the factory. It is a quick job and well worth a try.
To give the background to this review, I like many people, have been using SRAM for the last several years and have used all levels of their drivetrains. There are a few things which I never liked with SRAM but you get used to it and it is never a problem. To make this review a bit simpler what I´m going to do is list the things with the Shimano XT 12 Speed drivetrain which have stood out and impressed me, in no particular order.
Shimano XT 12 Speed: Feel.
There is one really nice touch on the gears which will jump out at you when you first try them: where your thumb contacts the shifter there is a rubber insert. It sounds like a small thing but it feels really brilliant.
Shimano XT 12 Speed: Gear Spacing.
This is the big thing. The top (biggest) cogs are really perfectly spaced. You can look up the ratios but from the saddle what you really notice is that you have been climbing pretty much in the big cog all the years you have been using SRAM. The SRAM jump from big to next down is big (on mine it´s 50-42-36t), what this means is that generally on steeper climbs you are in the 50t. The Shimano spacing is finer, (51-45-39t). It doesn´t sound that different but the difference is really noticeable, and really welcome.
Shimano XT 12 Speed: Shifting Options.
Double downshift is just brilliant and I really missed it.
Shimano XT 12 Speed: Durability.
The feel of the derralieur and shifters is just much more solid. Less plasticy. The clutch is adjustable. It just feels like it will last much longer than SRAM.
Shimano XT 12 Speed: Shifting under power.
I know your´re not meant to. The Shimano (especially the XTR) lets you get away with it. Shifting is really smooth and it is noticeable after coming from years on SRAM.
There are some things which are neither here nor there. The cranks are just cranks, I can´t think of anything interesting to say about them at all. They work.
There is one negative on the cassette. It needs Shimano´s own microspline freehub to mount. You probably have read loads about this already, basically Shimano have their own standard to mount the new Shimano XT 12 speed cassettes and it is not backwards compatible. I HATE new standards, we have a fleet of hire bikes and need to carry spares for our bikes, the hire bikes and things we thing our guests might need when we are deep in the Backcountry. It is annoying and expensive to have more standards. Having said that there are a few good reasons for the new standard and on balance the benifits outweigh the annoyances. Here are the benifits.
10t small cog. Lets face it we need this in the days of single chainrings.
Shimano´s cassettes aren´t one piece like the SRAM one. This means that the XD drive wouldn´t work. This means that Shimano can use different materials for each cog in the cassette. I also hope this is going to mean that the Shimano pricepoint is lower than the SRAM. Lets face it, the SRAM cassettes have got so expensive it is insane. This holds out with the XT cassette currently sitting at around €30 lower than the SRAM GX on the internet bike shops.
In balance, for me, the new Shimano XT 12 Speed drivetrain gets a big thumbs up.
Shimano XT 12 Speed Review | General
Shimano have pulled a definite WIN out of the bag for me. Lets hope they can get the OEM sorted and we start to see more Shimano on fully built bikes. With Orbea you have the option between SRAM and Shimano… All of our team have chosen the Shimano XT with Galfer discs. The only issues we have had is with the clutch on the 12-speed derailleurs. Mostly these have been fixed with a clean and grease, but we have had to return one derailleur under warranty.

Doug´s Comment
We have tested the XT extensively. Up until now it has been very positive. We have had one issue with a derralieur as mentioned above. The brakes have been perfect so far. We are hoping to try the Saint Calipers at some point to see if there is a difference.
We have also tested the XTR fairly extensively. The shifting on the XTR feels smoother, it´s lighter, looks cooler and is more expensive. No surprises there then!
I think that you get the idea from above. I love the new Shimano gear. The shifting is brilliant and the brakes work well and the whole package is filled with really nice touches. The whole basqueMTB team can choose whatever drivetrains we want on our bikes and we have all chosen Shimano braking and shifting. It is not perfect but the new Shimano 12 Speed XT kit really does feel like a big improvement and is currently the best out there.
Book your BasqueMTB Mountain Bike Holiday!
Check Our Latest Stories